Sega gibt bekannt, dass der neueste Teil der beliebten Virtua Tennis™-Serie als Launchtitel für PlayStation®Vita geplant ist. «Virtua Tennis 4» wird vom original Virtua Tennis-Team aus Japan entwickelt und das dritte Spiel dieser Reihe sein, das als Launchtitel für neue Entertainment-Hardware von Sony am Start ist – nachdem bereits die gleichzeitig zur Veröffentlichung der PlayStation Portable und der PlayStation 3 erschienenen Virtua Tennis-Titel grossen Erfolg hatten.
Wir freuen uns sehr, «Virtua Tennis 4» ankündigen zu können und bestätigen auch die Entwicklung vier weiterer Titel für PlayStation Vita. Wir sind schon sehr gespannt auf diese neue Plattform und demonstrieren mit der Entwicklung neuer Titel unsere Unterstützung. Unter den Entwicklungen werden brandneue Abenteuer unserer beliebtesten SEGA-Spielserien sein sowie auch komplett neu erschaffene Titel – die alle die einzigartigen Möglichkeiten nutzen werden, die PSVita zu bieten hat,
so Mike Hayes, CEO von SEGA Europe und SEGA of America.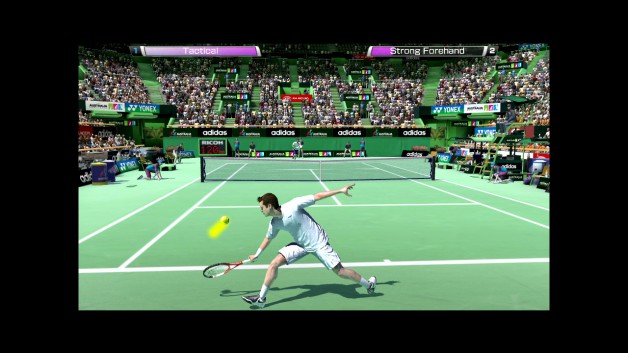 Gary Knight, Senior Vice President of Marketing von SEGA Europe und SEGA America kommentiert:
Mit «Virtua Tennis 4» für PSVita hat das Entwicklerteam viele Möglichkeiten dieser neuen Hardware genutzt, darunter die High-Definition-Grafik, die Steuerung über Touchpad, die Netzwerkfunktionalität, den Bewegungssensor und die Kamera. Die Verwendung all dieser Elemente bei der PSVita-Version bringt die Virtua Tennis-Serie auf den nächsten Level.
Kein Tennisspiel wäre ohne die weltbesten Stars komplett und so kann man bei diesem Titel aus 22 der bekanntesten Spieler wählen, darunter Federer, Nadal, Murray und Djokovic. Doch «Virtua Tennis 4» für PSVita spielt auch hinsichtlich der Technologie in einer eigenen Liga: neben der Touchpad-Steuerung auf Vorder- und Rückseite, die sowohl auf als auch abseits des Platzes zum Einsatz kommt, können die Spieler «Virtua Tennis 4» auch mit der klassischen Pad-Steuerung spielen. Die Partyfunktion auf PSVita macht die World-Tour und den Online-Modus zu gemeinschaftlichen Erlebnissen, bei denen die Spieler den Fortschritt ihrer Freunde nachvollziehen, mit ihnen chatten, Statistiken austauschen, Kommentare abgeben und andere zu Online-Matches herausfordern können.
Dazu kommen noch interessante Individualisierungs-Möglichkeiten über die PSVita-Kamera: so können die Spieler zum Beispiel ihre Figur mit einem Foto ihres Gesichts ausstatten. Und im speziellen "Touch Versus"-Modus dürfen zwei Spieler gleichzeitig mit nur einem PSVita-System gegeneinander spielen. Mit all diesen Features wird «Virtua Tennis 4» für PSVita eine neue Generation an Tennisspielen für Handheld-Systeme einläuten! (pd/tom)