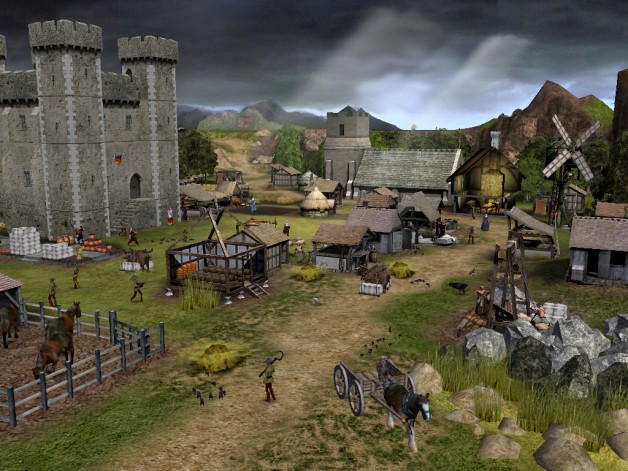 THQ kündigt heute die Veröffentlichung von «Stronghold 3» in Deutschland, Österreich und der Schweiz an. Der Titel wird von den britischen FireFly Studios entwickelt und erscheint im Herbst 2011 auf Windows PC.
Seit 2001 hat sich «Stronghold» zu einer der meistrespektierten Serien im Strategiegenre entwickelt, insbesondere durch die gelungene Mischung aus präzisem Siedlungsaufbau, schneller Echtzeit-Strategie und dramatischen Belagerungen mit Hunderten von Gegnern. Im dritten Teil der erfolgreichen Strategiespiel-Reihe bauen die Spieler mächtige Burgen, befehligen große Armeen und planen verheerende Belagerungen. Zwei Kampagnen, neue Taktiken und ein Mehrspielermodus sorgen dabei für Langzeitmotivation.
Die deutschsprachige Version von «Stronghold 3» enthält zudem eine exklusive Festung: die Marksburg. Die berühmte Marksburg steht auf einer Hügelspitze über der Stadt Braubach. Die Burg ist vor allem deshalb bekannt, weil sie die einzige Festung im Mittelrhein-Gebiet Deutschlands ist, die niemals zerstört wurde. Sie wurde im Jahr 1117 erbaut und im Laufe der Zeit zunehmend verstärkt. Der Legende nach galt die Burg als beinahe unzerstörbar.
Über «Stronghold 3»:
• Baumeister und Burgherr: Errichten Sie realistische Burgen und nutzen Sie komplexe Wirtschaftssysteme mit dem erweiterten Aufbau-System.
• Tag/Nacht und Wetter-Ereignisse: Zum ersten Mal können Sie in Stronghold das Drama einer nächtlichen Belagerung hautnah miterleben. Auch die Wetterverhältnisse beeinflussen das Spiel.
• Außergewöhnliche Technik: Realistische Physik, erstklassige Grafik und Lichteffekte sorgen für einen faszinierenden Detailgrad.
• Zwei Kampagnen: Story-getriebene Gameplay-Elemente schaffen eine militärische Kampagne und eine Wirtschaftskampagne.
• Karten-Editor und Modus "Freies Bauen" enthalten.
• Historische Belagerungen: Übernehmen Sie das Kommando über eine Belagerungsarmee oder planen Sie eine Rückzugsstrategie in realen Burgen auf der ganzen Welt.
• Mehrspielermodus: Bis zu 8 Spieler belagern ihre Burgen gegenseitig in einer Reihe von actiongeladenen Mehrspieler-Modi (Classic Deathmatch, King of the Hill, Capture the Flag, Kingmaker)
• Sprache und Texte komplett in Deutsch!
• Deutsche Version mit exklusiver Festung: der Marksburg!
Weitere Informationen zu «Stronghold 3» erhalten Sie auf www.thq.de