«Gears of War: Judgment» versetzt die Spieler in die Zeit vor den Geschehnissen der «Gears of War»-Trilogie. Eine spannende, neue Kampagne und adrenalingeladene Multiplayer-Modi warten.
Vor dem Aufstieg der Lambent, dem Untergang von Jacinto oder der Detonation der Lightmass Bombe, schrieb der Emergence Day Geschichte – als die Locust aus dem Boden kamen und sich aufmachten, Sera zu zerstören. «Gears of War: Judgment» bringt die Spieler zu den schrecklichen Folgen des E-Day und stellt die bislang grösste «Gears» Herausforderung dar. Das Spiel erscheint am 22. März 2013.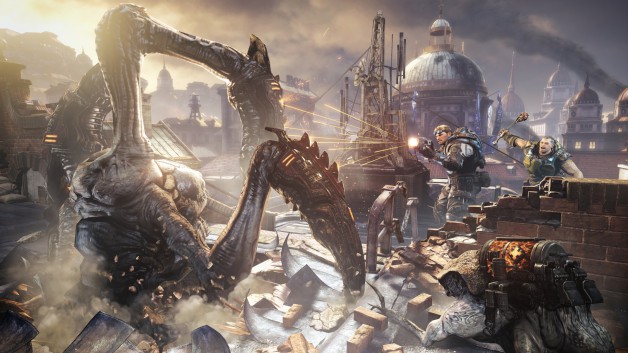 Das von Epic Games und People Can Fly exklusiv für Xbox 360 entwickelte «Gears of War: Judgment» bietet eine spannende Kampagne mit neuen Charakteren, Waffen und Feinden. Ausserdem gibt es neue Multiplayer-Action zu erleben: «OverRun», ein völlig neuer, klassenbasierter Modus, der Elemente aus Horde und Beast zu einem völlig neuen Spielerlebnis verbindet.
Die Grundlagen von «OverRun» und Action auf «Island»
Das heute erschienene «OverRun» Tutorial Video zeigt den Fans das spannende klassenbasierte Gameplay von «OverRun». Damon Baird führt durch das Video und verrät den Spielern, welche Fähigkeiten sie benötigen, um als COG zu verteidigen oder als Locust anzugreifen. Actiongeladener war «Gears» noch nie.
Nachdem an der E3 2012 bereits die Rooftops Karte gezeigt wurde, wird heute die komplett neue Karte «Island» präsentiert:
«Island» befindet sich auf einem Archipel vor der Küste von Halvo Bay, welches als Versorgungslager der grossen Militärmaschinerie dient, welche an der gesamten Küste stationiert ist. Die einzelnen Inseln sind durch Brücken und Tunnels miteinander verbunden und bilden ein Netzwerk unbekannter Grösse und Sicherheit. Es handelt sich um ein geheimes Territorium. Zivilisten ist es nicht gestattet, sich auf oder in der Nähe der Inseln aufzuhalten.
Tom Bissell und Rob Auten sind die Autoren von «Gears of War: Judgment»
Tom Bissell (Journalist und Autor von «Extra Lives») und Rob Auten schrieben die Geschichte zu «Gears of War: Judgment» welche vom Kilo Squad handelt. Dieses wird von den «Gears» Fan-Lieblingen Bamon Baird und Augustus "The Cole Train" angeführt. Sie versuchen die Halvo Bay vor der Zerstörung durch die Locust zu schützen.
Die «Gears of War» Serie gehört zu den beliebtesten Franchises in der Xbox Geschichte. Dies bezeugen 18 Millionen weltweit verkaufter Spiele sowie Bestseller-Romane, Spielsachen, Sammlerstücke, Graphic Novels und viele weitere Produkte. (pd/tom)