Sony hat angekündigt, dass die mit Spannung erwartete Mehrspieler-Beta von «God of War: Ascension» für PlayStation 3 ab 8. Januar 2012 offiziell bei PlayStation®Plus erhältlich sein wird.
Die Mehrspieler-Levels von «God of War: Ascension» lassen sich in zwei Kategorien unterteilen -grössere Karten mit weitläufigen, offenen Umgebungen (zum Beispiel "Wüste der verlorenen Seelen"), und kompaktere Arenen, die die Action verdichten und in Nahkämpfen die Reflexe der Spieler auf die Probe stellen.
Sobald die Beta veröffentlicht wird, können PlayStation Plus-Abonnenten eine weitere Ebene dieses Erlebnisses entdecken: den Team-Wohlwollen-Tempomodus, eine neue Variante des Team-Deathmatch. Durch Kämpfen verdient man die erforderliche Anzahl Wohlwollen-Punkte, die die Götter vergeben. So werden neue Anpassungsoptionen für den eigenen Gladiator freigeschaltet. Ebenfalls wird eine bisher noch ungezeigte Einzelspieler-Version erhältlich sein, die den Einzelgängern unter den Spielern spannende Kämpfe ermöglicht.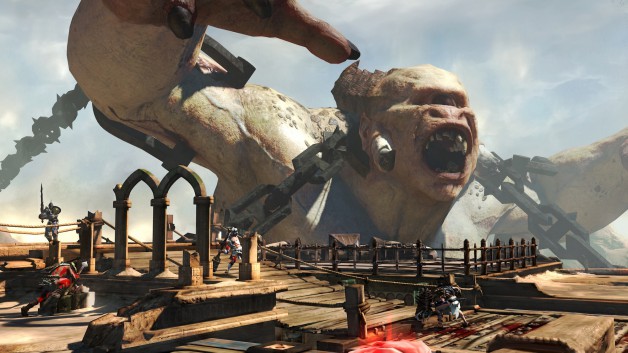 «God of War: Ascension» ist das Prequel zur Bestseller-Reihe «God of War». Nachdem er von Ares hinterhältig dazu gebracht wurde, seine Frau und sein Kind zu töten, wird Kratos dazu verurteilt, die Ewigkeit in einem Gefängnis für die lebend Verdammten zu verbringen, das gross genug für einen Titanen wäre -denn er hat geschworen, die einzigen Menschen, die er jemals geliebt hat, zu rächen und somit seinen Bluteid gebrochen. Mit seinen treuen Chaosklingen muss Kratos es mit den finstersten Kreaturen der Mythologie aufnehmen und bei seinem unbarmherzigen Feldzug auf der Suche nach Erlösung und Freiheit komplizierte Rätsel lösen.
Die Beta-Version von «God of War: Ascension» sorgt für einen rasanten Start ins Jahr 2013 und stellt das Können der Spieler auf die ultimative Probe.
«God of War: Ascension» wird am 13. März 2012 veröffentlicht.