Deconstructeam und Devolver Digital drehen vor Freude über die folgende Ankündigung völlig durch: Der Indie-Thriller «Gods Will Be Watching» erscheint im Juni via Steam, Humble und GOG für PC, Mac und Linux. Das auf der Ludum Dare 26 erstmals gezeigte «Gods Will Be Watching» wurde seit seiner Ankündigung vom Entwickler Deconstructeam beständig erweitert und erzählt die spannende Geschichte von einem Forschungsteam, das sich in einer fremden Welt mit ethischen Problemen und einigen weiteren Herausforderungen konfrontiert sieht.
Die verbesserte und erweiterte Fassung von «Gods Will Be Watching» ist ein minimalistischer Point'n'Click-Thriller, der Elemente wie Verzweiflung, Verpflichtung und Opferbereitschaft mit intelligenten Rätseln verbindet – und so entstand über die Monate aus einem Minispiel ein ausgewachsenes Abenteuer, bei dem die vom Spieler getroffenen Entscheidungen direkten Einfluss auf die Gemütslage und den Zustand seiner Crew haben. Vor dem Hintergrund einer interstellaren Auseinandersetzung schlagen sich Sgt. Burden und seine Crew durch sechs intensive Kapitel und erleben dabei Geiselnahmen, müssen sich in der Wildnis zurechtfinden, bekommen es mit Biowaffen zu tun – und dürfen sich dann noch über seltsame Folterszenarien den Kopf zerbrechen, Jede Entscheidung ist dabei überaus weitreichend und der Spieler muss ständig zwischen dem Schicksal seines Teams und dem Schicksal der ganzen Welt wählen.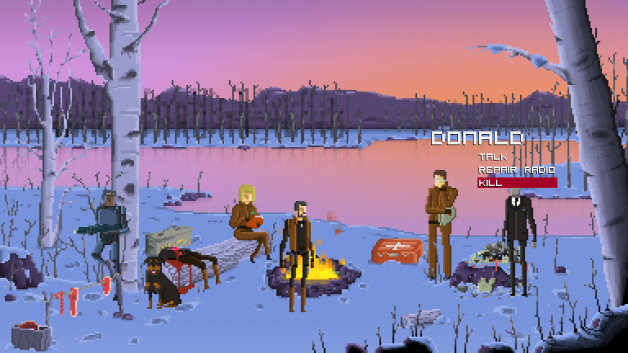 Unser Team wollte eine neue Sorte der Point'n'Click-Adventures erschaffen und dem Spieler dabei das Gefühl geben, dass seine Entscheidung weitreichende und mitunter sehr düstere Konsequenzen haben. Wir sind uns darüber bewusst, dass «Gods Will Be Watching» die ursprünglichen Pfade dieses Genres verlässt – aber wir sehen dies als Möglichkeit, die Gewichtung der vom Spieler getroffenen Entscheidungen in ein neues Licht zu rücken,
so Jordi de Paco, der Gründer des Entwicklers Deconstructeam.
Deconstructeam und Devolver Digital haben auf der SXSW Gaming in Austin, der Rezzed in Birmingham, und der PAX East in Boston neue Versionen des Spiels im Gepäck und zeigen bis zum Juni regelmässig neue Inhalte. Wer es nicht auf eine dieser Messen schafft, der kann auf godswillbewatching.com vorab einen Blick auf das Spiel werfen – ausserdem tweeten die Entwickler regelmässig unter @Deconstructeam Neuheiten zu diesem Projekt. (pd/tom)