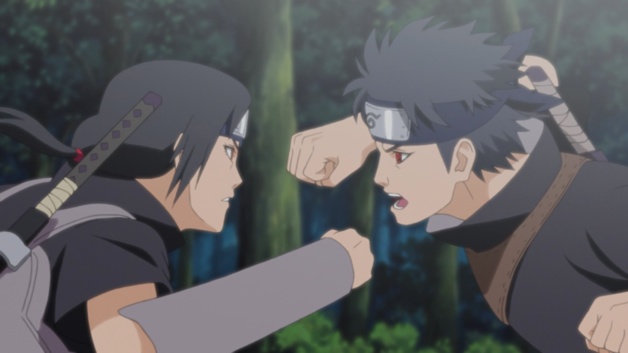 BANDAI NAMCO Games Europe S.A.S hat bekannt gegeben, dass «NARUTO SHIPPUDEN: Ultimate Ninja STORM Revolution» im September 2014 in Europa und Australasien an Land gespült wird! Dieser neue Titel der erfolgreichen Spieleserie erscheint für die PlayStation 3, die Xbox 360 und auf PC via Steam. Die Fortsetzung der etablierten STORM-Reihe wird in verschiedenen Ausführungen mit unterschiedlichen Inhalten verfügbar sein:
Die Rivals Edition enthält zwei exklusive Kostüme, welche später nicht separat im Handel erhältlich sein werden. Im ersten Kostüm kann sich Naruto wie sein langjähriger Rivale Sasuke kleiden, während sich Sasuke in Narutos klassisches orangefarbene Outfit wirft.
Zudem erscheint das Spiel in einer aufwändigen Samurai Edition, die selbst den kühnsten Ninja-Erwartungen gerecht wird und folgende Inhalte bietet:
Die Rivals Edition von «NARUTO SHIPPUDEN: Ultimate Ninja STORM Revolution»
Eine 17 cm grosse Naruto Samurai Figur (die exklusiv für das Spiel produziert wurde)
Ein Steelbook im Design von «NARUTO SHIPPUDEN: Ultimate Ninja STORM Revolution»
Bei teilnehmenden Handelspartnern erhalten Fans, die das Spiel vorbestellen, ein kostenloses Samurai-Rüstungspaket für Naruto, Sasuke und Sakura!


Naruto SUN Storm Revolution - PS3/X360/PC - The truth of the ninja tale (English trailer)
Das Spiel greift die mysteriöse Hintergrundgeschichte von Shisui Uchiha und Itachi Uchiha auf. Diese Geschichte wird in exklusiven Animationssequenzen erzählt, die mit dem Gameplay des Spiels verwoben sind. Hier haben die Spieler das erste Mal die Gelegenheit, selber Shisui zu spielen!
Wir freuen uns sehr auf eine Zusammenarbeit mit CyberConnect2, da sie bereits in der Vergangenheit unzählige Male ihre Fähigkeiten im Anime-Beat 'em Up-Genre unter Beweis gestellt haben! Wir sind gespannt auf ein weiteres aufregendes, hochqualitatives Spiel aus ihren Händen. Die Produktion einer exklusiven Figur für die Sonderedition des Spiels ist ein weiterer Schritt dazu, unsere Titel für unsere Spieler einmalig zu gestalten. Wir bei BANDAI NAMCO GAMES glauben, dass unsere Spieler die bestmögliche Qualität verdienen. Darum arbeiten wir hart daran, diesen hohen Standard beizubehalten,
so Herve Hoerdt, Vizepräsident des Bereichs IP Strategy bei BANDAI NAMCO Games Europe.
«NARUTO SHIPPUDEN: Ultimate Ninja STORM Revolution» erscheint im September 2014 in Europa und Australasien. (pd/tom)