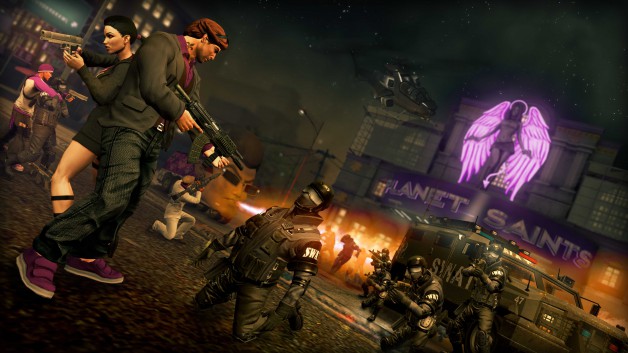 Im kürzlich erschienenen Open-World-Epos «Saints Row: The Third» geht die Post ab – auf den Strassen unserer neuen Stadt Steelport wurden bereits unzählige Hot-Dog-Maskottchen attackiert und Autos zu Schrott gefahren. 
Die Spieler lieben dabei den möglichen mathematischen Wahnsinn in Saints Row. Ab sofort kann jeder Spieler seinen eigenen Spielfortschritt mit Hilfe neuer Community-Features auf www.SaintsRow.com/de nachverfolgen. In einer Reihe verrückter Kategorien werden die Aktionen gewertet und entsprechende Bestenlisten geführt – und das alles in Echtzeit auf der Steelport-Live-Karte!
Die neuen Features:
«Saints Row: The Third» – Statistiken und Erfolgs-/Trophäen-Tracker
Mit den neuen Tracking-Features auf SaintsRow.com/de kann man den Wahnsinn endlich zählbar darstellen. Eine Statistikseite für jeden Spieler zeigt die absurdesten Errungenschaften – über die Gesamtzeit beim Fahrzeugsurfen bis hin zu den weitesten Luftsprüngen. Alle Aktionen werden mit den Leistungen der Community verglichen. Der Spieler kann auch jederzeit direkt das Profil eines Freundes ansteuern und einen Kopf-an-Kopf-Vergleich durchführen.
Live-Karte von Steelport
Manche Karten weisen den Weg, diese hier enthüllt Geheimnisse! Die neue Live-Karte von Steelport wird in Echtzeit mit allen Spielaktivitäten aktualisiert. Zusätzlich können die Spieler Orte auf der Karte markieren und Hinweise für die Community hinterlassen. Jemand kennt die geheime Positionierung einer Sexpuppe? Oder er hat einen wertvollen Hinweis für den erfolgreichen Abschluss einer Mission? Dieses Wissen kann nun auf der Karte mit der Community geteilt werden. Nebenbei können auch eigene Screenshots hochgeladen und mit einem Punkt auf der Karte verbunden werden – so nimmt die gesamte Community an einem wunderbaren Moment in Steelport teil.
Weitere Informationen zu den Statistiken gibt es auf www.SaintsRow.com/de (pd/tom)