Ubisofts «Call of Juarez: The Cartel» ist ab sofort für Xbox 360 und PlayStation 3 im Handel erhältlich. Die Windows PC-Version wird am 13. September 2011 veröffentlicht. Der von Techland entwickelte First-Person-Shooter bietet eine eindringliche Story mit einer grossen Bandbreite an Charakteren und einem intensiven Gameplay. Die Spieler werden mit auf eine Reise in eine moderne Wild-West-Welt genommen, wo der Zweck die Mittel heiligt und Gesetzlosigkeit wild um sich greift.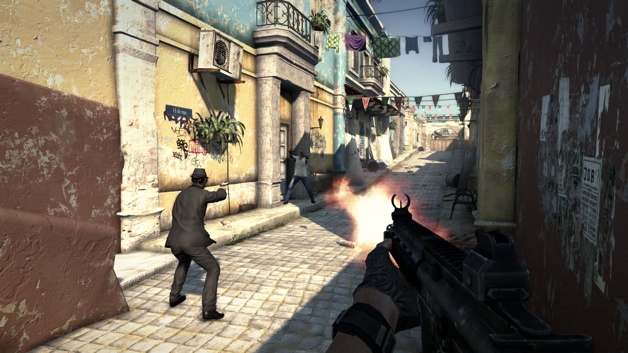 Als ein mexikanisches Drogen-Kartell einen Bombenanschlag auf ein Gebäude der amerikanischen Strafverfolgungsbehörde verübt, ruft die Regierung eine besondere Einsatztruppe ins Leben, um es zu stoppen. Zur Auswahl stehen LAPD-Cop Ben McCall, DEA Agent Eddie Guerra, und FBI Agent Kim Evans, von denen jeder seine eigenen speziellen Fähigkeiten, persönlichen Dämonen und einzigartige Story mit sich bringt. Die Spieler kämpfen als einer dieser Protagonisten, um das Kartell auf den Strassen von Los Angeles bis nach Ciudad Juarez zu zerlegen.
«Call of Juarez: The Cartel» bietet eine intensive Kampagne, die mit bis zu zwei Freunden erlebt werden kann; dabei stehen Razzien, harte Verhöre, Verfolgungsjagden und noch viel mehr auf dem Plan. Um Tiefe im Drei-Spieler-Co-Op-Modus zu erzeugen, gibt es das neue "Co-Opetition"-System. Ein Mix aus "Cooperation" und "Competition", der den Spielern ermöglicht nicht nur zusammen, sondern in geheimen Missionen und Aufgaben auch gegeneinander zu arbeiten. Spieler, die diese Aufgaben erfolgreich abschliessen, werden mit Erfahrungspunkten belohnt, die zum Aufsteigen und Freischalten neuer Waffen genutzt werden können. Es gilt das Geheimnis seines Partners zu lüften, um den Sieg davon zu tragen.
Das Spiel beinhaltet ausserdem zwei Multiplayer-Modi, die mit Features voll gepackt sind, um eine umfassende Spielerfahrung zu bieten. Im klassischen Team-Death-Match kämpfen Cops gegen Kriminelle. Dieser Modus bietet eine Menge an Belohnungen und Herausforderungen, bei denen der Schwerpunkt auf Teamwork liegt. Der Objective-Mode hingegen ist missionsbasiert. Hier treten zwei Seiten gegeneinander an, um eine bestimmte Serie an Zielen zu erfüllen. Beide Modi können bis zu 12 Spieler für 6 vs. 6 Matches aufnehmen. (pd/tom)