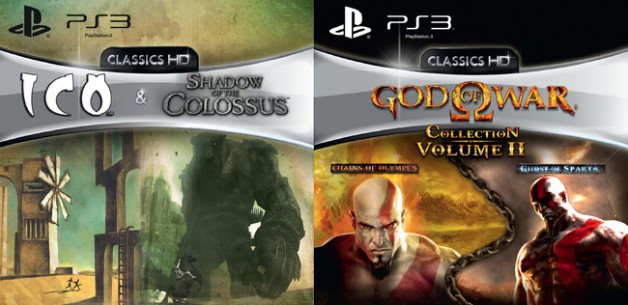 Sony freut sich, die Veröffentlichung von zwei epischen, umfassend überarbeiteten Kompilierungen auf Blu-ray Disc für PlayStation 3 (PS3) bekannt geben zu können. Ab September bieten die neuesten "Classics HD"-Titel «ICO und Shadow of the Colossus» sowie «God of War Collection: Volume II» überragende Grafikqualität und ein packendes neues Spielerlebnis auf dem PS3-System.
(Classics HD) «God of War Collection: Volume II» erscheint am 14. September
Kratos' actiongeladene Abenteuer in «God of War: Chains of Olympus» und «God of War: Ghost of Sparta», die bisher nur in tragbarer Form für PSP (PlayStation Portable) erhältlich waren, wurden in atemberaubender HD-Grafik und beeindruckendem Stereoscopic 3D vollständig überarbeitet, was jeden einzelnen, lebensbedrohlichen Kampf, den Kratos überstehen muss, zu neuem Leben erweckt.
Ready at Dawn, die preisgekrönten Produzenten der «God of War»-Serie auf PSP, haben die Spiele neu bearbeitet. Die Spieler können dadurch in Kratos' erbarmungslose, chaotische Welt eintauchen, die jetzt mit noch schöner gestalteten Grafikdetails aufwartet. Zusammen mit dem neuen PlayStation Network-Trophäen-Support wird den Spielern so die Möglichkeit gegeben, das Spiel auf völlig neue Weise zu erleben. Die dunklen Geheimnisse aus Kratos' Vergangenheit werden enthüllt mit der Geschichte seiner Herkunft in «Chains of Olympus», welches zehn Jahre vor dem Beginn der «God of War»-Saga spielt, sowie «Ghost of Sparta», welches zwischen «God of War» und «God of War II» angesiedelt ist und die Wahrheit über seine Familie ans Licht bringt.
(Classics HD) «ICO und Shadow of the Colossus» erscheinen am 28. September
Erstmals überhaupt können zwei der erfolgreichsten Abenteuerspiele für PlayStation 2 auf dem PS3-System neu erlebt werden – diesmal in 1080p-Full-HD-Pracht mit gestochen scharfer Optik oder Stereoscopic 3D für ein spannendes, neues Erlebnis. Der Spieler wird Teil einer innovativen und wegweisenden, emotionalen Geschichte mit packenden Kämpfen, weiten Landschaften, die zum Erkunden einladen, und kniffligen Rätseln – Fans der Serie und alle, die diese Spiele zum ersten Mal spielen, werden gefesselt sein von der geheimnisvollen, aussergewöhnlichen Reise, die sie in «ICO und Shadow of the Colossus» erwartet.
Der Spieler wandert durch die von Bluepoint Games überarbeiteten und unter Game Director Fumito Ueda von Japan Studios produzierten, atemberaubenden Welten von «ICO und Shadow of the Colossus» und entdeckt auf seinem Weg viele aufregende Dinge:
Plattform-Abenteuer: Durch Kampf, Strategie, das Erkunden der Welt und das Lösen von Rätseln kommt man in beiden Spiele zum Erfolg – stundenlanger Spielspass inklusive.
Einzigartige Story: Jedes Spiel hat einen eigenen, unverkennbaren Grafikstil samt fesselnder, emotionaler Geschichte.
Trophäen-Support: Neue PlayStation Network-Trophäen, die Spieler ihrer bestehenden Sammlung hinzufügen können.
Erstmals können diese Klassiker dank spektakulärer Full-HD-Grafik in all ihrer Pracht gespielt werden. Machen Sie sich bereit, die Rätsel dieser vier beeindruckenden Spiele auf dem PS3-System zu lösen. «God of War Collection: Volume II» ist ab dem 14. September in allen Geschäften erhältlich, «ICO und Shadow of the Colossus» sind am 28. September erhältlich. (pd/tom)