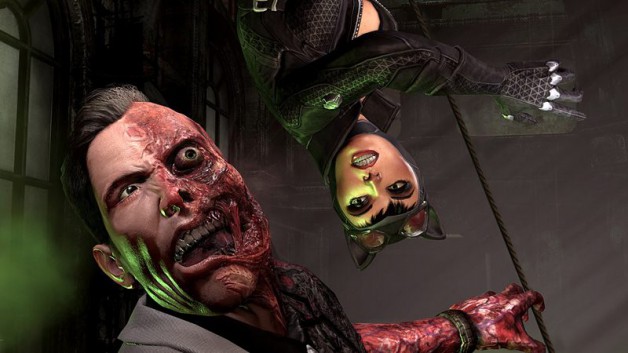 Warner Bros. Interactive Entertainment und DC Entertainment veröffentlichen einen neuen Trailer zu «Harley Quinn's Revenge», dem abschliessenden Kapitel von Batman Arkham City, in welchem den Spieler mehr als zwei Stunden zusätzliches spannendes Gameplay erwarten. «Batman: Arkham City», welches bereits für Xbox 360 , PlayStation 3 und PC erhältlich ist, wird von Kritikern und Fans gleichermassen in den höchsten Tönen gelobt.
Rache ist süss, besonders wenn man es mit Harley Quinn zu tun bekommt, Jokers tödlichstem Handlanger. Harley ist der neue Boss von Arkham City und entschlossen, Batman dafür büssen zu lassen, was er dem Joker angetan hat. In Harley Quinn's Revenge kehren die Spieler noch einmal nach Arkham City zurück, um sich ihrer finalen Herausforderung zu stellen, während sie abwechselnd in Batmans bzw. Robins Rolle schlüpfen.
Seht euch den neuen Trailer an und findet heraus, was Harley Quinn für den Spieler auf Lager hat.
Fans des dunklen Ritters, die sich die neue Erweiterung nicht entgehen lassen wollen und «Batman: Arkham City» bereits in der Originalversion besitzen, können das «Harley Quinn's Revenge» Pack ab dem 30. Mai für €7.99 (ca 9.95 CHF) im PlayStation Network oder für 800 Microsoft Points vom Xbox Live Marktplatz herunterladen.
Für alle anderen erscheint im September 2012 die «Batman: Arkham City Game of the Year Edition». Hier sind zusätzlich zum Hauptspiel alle fünf bislang veröffentlichten DLCs, sieben zusätzliche Karten, drei spielbare Charaktere und 12 Skins enthalten.
«Batman: Arkham City Game of the Year Edition» basiert auf der Batman-Lizenz von DC Comics und wurde von der USK ab 16 Jahren freigegeben. Batman-Fans finden auf www.batmanarkhamcity.com weitere Informationen über das Spiel. (pd/tom)