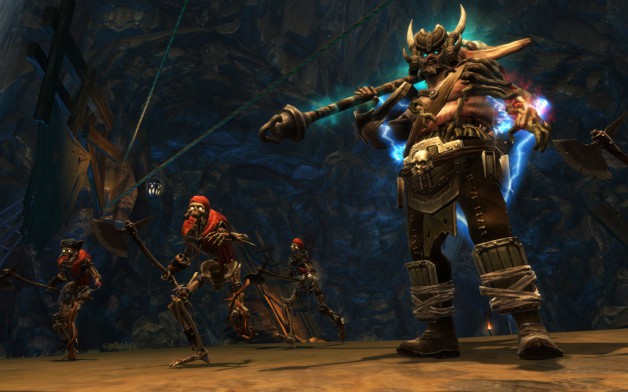 Das Streben nach Ruhm in Amalur geht weiter: EA, 38 Studios und Big Huge Games haben Die «Legende vom Toten Kel», den ersten Zusatzinhalt für das Action-Rollenspiel «Kingdoms of Amalur: Reckoning» enthüllt. In einer geheimnisvollen Geschichte mitsamt Intrigen, Gefahren und dunkler Magie werden die Spieler auf der Insel Galgensend auf zwielichtige Charaktere und neue Gegner treffen und dabei eine Vielzahl neuer Nebenquests, gefährlicher Kämpfe und fesselnder Herausforderungen erleben. Die «Legende vom Toten Kel» gewährt den Spielern Zugang nach Galgensend, einer gigantischen neuen Landmasse, bei deren Erkundung sie ein gewaltiges Anwesen für sich beanspruchen und neue Waffen und Schicksalswendungen entdecken können. Die «Legende vom Toten Kel» ist ab 20. März 2012 auf Xbox LIVE, PSN, Origin und Steam erhältlich.
Die «Legende vom Toten Kel» und die «Geschichte von Galgensend» umfassen:
Eine neue Questreihe – Die «Legende vom Toten Kel» ist nur ein Teil der «Geschichte von Galgensend». Sie ist mit zahlreichen Nebenquests, mehreren Dungeons und einer Vielzahl schillernder Charaktere verflochten.
Neue Gegner, Dungeons und Items – Zahlreiche neue Gegner und Gegner-Varianten, eine neue Dungeon-Art – die Dverga-Wehren –, drei neue Schicksalswendungen, acht neue Rüstungssets und Schilde sowie 18 neue, einzigartige Waffen.
Die ultimative Spieler-Unterkunft – Die Gravehal-Feste ist mehr als nur eine Spieler-Unterkunft. Sie ist ein gewaltiges Anwesen mit mehreren Gebäuden und einem kompletten Gefolge aus Dienstleistern, die alle ihre eigenen Hintergrundgeschichten, Nebenquests, Angebote und Eigenarten haben.
Unzählige neue Entdeckungen – Die «Legende vom Toten Kel» fügt der ohnehin schon gewaltigen Welt von Amalur mehr als 15 % zusätzliches Land hinzu, das der Spieler durchqueren und erkunden kann.
«Kingdoms of Amalur: Reckoning» ist am 09. Februar 2012 für PS3, Xbox 360 und PC erschienen und verbindet die Erkundung einer offenen Welt mit unvergleichlicher Action und intensiven Kämpfen und erschafft somit ein einzigartiges Rollenspielerlebnis. Nahezu unendliche Kombinationen von Schicksalen, Fähigkeiten, Waffen, Gegenständen und Spezialtechniken geben den Spielern die Möglichkeit, ihr Spielerlebnis an jede Spielweise individuell anzupassen. Indem sie ihr Schicksal neu weben, können sie ihren Helden inmitten des Abenteuers neu ausrichten und vollständig umgestalten.
Zum Leben erweckt wurde die Vision des Spiels durch den 24-maligen New York Times-Bestsellerautor Robert Anthony Salvatore, durch den Schöpfer von Spawn, Todd McFarlane, sowie den bekannten Spieledesigner Ken Rolston. Zusammengestellt wurde dieses All-Star-Team von Curt Schilling, dem dreimaligen Baseball-World Series-Champion als Pitcher und Gründer der 38 Studios. (pd/tom)