«Enter The Gungeon» erlöst dich 2015 von deinen alten Sünden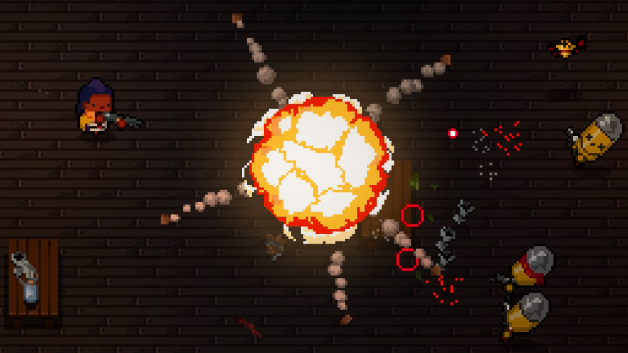 Auf der Sony PlayStation Experience-Keynote wurde soeben «Enter The Gungeon» angekündigt. Was dem Spielspass aber keinen Abbruch tut – der brandneue Mix aus Ballerspiel und Dungeon-Erforschung erscheint 2015 für PlayStation 4, PC, Mac und Linux. Den Vertrieb übernehmen die, wegen Waffenbesitz mehrfach vorbestraften, Handfeuerexperten von Devolver Digital, Entwickler ist Dodge Roll.
Spieler schlüpfen in die Rolle der sogenannten Gungeoneers (Kann das jemand übersetzen? Wir können es nämlich nicht.), die allesamt von ihrer dunklen Vergangenheit verfolgt werden. Auf der Suche nach einen besseren Zukunft heisst es dann: «Enter The Gungeon». Beim steinigen Weg durch die von Designer-Hand erschaffenen Gewölbe ist Feuerkraft die wichtigste Eigenschaft – denn mit steigender Spieldauer steigt gleichzeitig auch die Gegenwehr und aus einem Kugelhagel wird schnell ein ganzer Sturm an Geschossen.

Enter the Gungeon – Reveal Trailer

Und dann hilft nur noch die richtige Waffe weiter: Die Waffe, mit der man auch die rätselhafte Vergangenheit der Spielfiguren zur Strecke bringen kann. Nebenher darf der geübte Spieler noch mit zahlreichen weiteren Schusswaffen experimentieren. Darunter sind so fantastische Dinge wie Raketen, Laser, Kanonenkugeln oder Regenbogen-Salven, Fische, Schaumstoff-Dartpfeile und Bienen. Wir schreiben das zur Sicherheit nochmal auf, damit es auch wirklich jeder versteht: Regenbogen-Salven, Fische, Schaumstoff-Dartpfeile und Bienen. (pd/tom)
Tags:
Enter The Gungeon
,
Linux
,
MAC
,
PC
,
PlayStation 4
,
PlayStation Experience-Keynote 2014