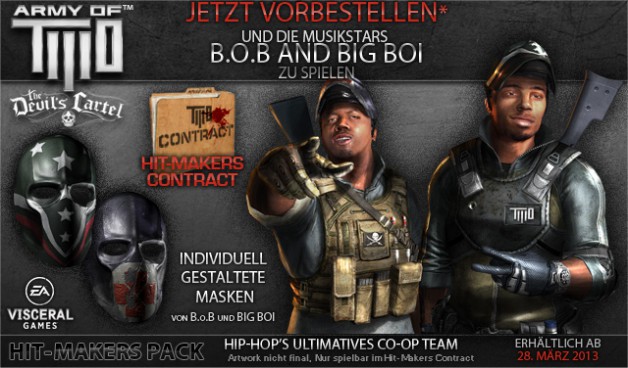 Electronic Arts arbeitet mit den Hip-Hop-Stars Big Boi und B.o.B zusammen und bringt diese in das Koop-Actionspiel «Army of TWO The Devil's Cartel» ein. Die beiden US-Stars arbeiten mit dem Entwicklerstudio zusammen an Double or Nothing, dem offiziellen Titelsong des Anfang 2013 auf den Markt kommenden Shooters, und bilden auch im Spiel selbst ein Team. Das Duo wird die Rollen der T.W.O.-Agenten Charles "Chuy" Rendall (Big Boi) und Anthony "Baker" Barnes (B.o.B) übernehmen und Spielern dabei helfen, sich ihren Weg durch das gefährlichste Kartell Mexikos zu sprengen.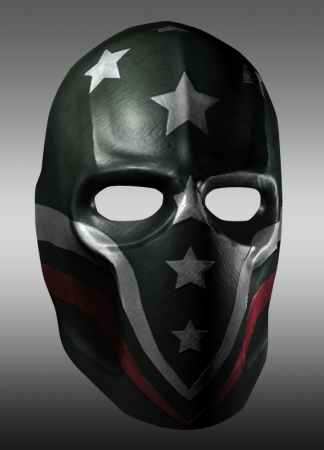 Eines der Hauptziele von «Army of TWO The Devil's Cartel» ist es, den Spielern das Gefühl zu vermitteln, sie sähen beim Spielen einen Action-Blockbuster-Film. Der fantastische Titelsong trägt dabei zur richtigen Stimmung bei – fast so, als sässe man tatsächlich im Kino
so Julian Beak, Executive Producer von Visceral Studios Montreal.
Big Boi und B.o.B haben auch neben dem grossartigen Song einen wirklich fantastischen Auftritt hingelegt, der die Story enorm bereichert.

Ich bin ein grosser Fan von Action-Spielen. Die Möglichkeit, in so einem Spiel als Darsteller mitzuwirken, begeistert mich total.
erklärte der begeisterte Gamer B.o.B.
«Army of TWO The Devil's Cartel» bietet alles, was ich von einem grossartigen Spiel erwarte – Intensität, riesige Explosionen und Zerstörungen.
Mit B.o.B am Titelsong für Army of TWO The Devil's Cartel und im Spiel selbst zusammenzuarbeiten, war einfach toll. Ich kann es kaum abwarten, das Spiel zu starten, unseren Song zu hören und mich selbst im Spiel zu sehen.
so Big Boi.
Das von Visceral Games (unter anderem bekannt durch die «Dead Space»-Reihe) entwickelte Spiel «Army of TWO The Devil's Cartel» nimmt die Serie wieder auf, die für das Koop-Erlebnis mit Action-Blockbuster-Handlung mit den beiden Vorgängern wahre Pionierarbeit geleistet hat. Die Spieler verkörpern Alpha und Bravo, zwei für Tactical Worldwide Operations (T.W.O.) arbeitende Agenten, die gegen ein gefährliches, mexikanisches Drogenkartell kämpfen. «Army of TWO The Devil's Cartel» umfasst Online- und Split-Screen-Koop und bietet Spielern durch zahlreiche Upgrade-Funktionen und eine umfassende Charaktererstellung die Chance, sich von ihren Freunden abzuheben. Spieler können ihre eigenen Alpha- und Bravo-Figuren gestalten – von der Maske, die sie im Kampf schützt, bis hin zu den Waffen. So erschaffen sie ein schlagkräftiges Söldner-Team ganz nach ihren eigenen Vorstellungen.
«Army of TWO The Devil's Cartel» ist ab dem 26. März 2013 für PlayStation 3 und Xbox 360 erhältlich. Für dieses Spiel gibt es noch keine Altersfreigabe. (pd/ts)