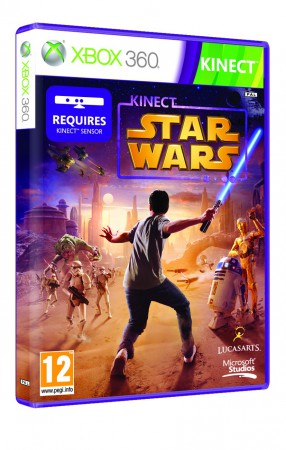 Am 3. April bringen Xbox 360 und Lucas Arts mit dem Spiel «Kinect Star Wars» und dem Limited Edition «Kinect Star Wars» Konsolenbundle die Macht in Schweizer Wohnzimmer. «Kinect Star Wars» schickt Spieler in eine weit entfernte Galaxie und lässt sie selbst zum Jedi Ritter werden: unter vollem Körpereinsatz können sie ihr Lichtschert schwingen und die Macht nutzen, um Gegner zu besiegen. Wer noch tiefer in das Geschehen eintauchen möchte, kann den Titel sogar in 3D spielen [1]. Das «Kinect Star Wars» Konsolenbundle beinhaltet neben dem Spiel limitierte Hardware in einmaliger Star Wars Optik: eine Xbox 360 320GB Konsole im R2D2 Look, einen weissen Kinect Sensor sowie einen C3PO-goldenen Controller.
Abenteuer für alle im Star Wars Universum
Fünf Spielmodi bieten Unterhaltung für die ganze Familie: Jedi Destiny: Dark Side Rising, Podracing, Rancor Rampage, Galactic Dance Off und Duels of Fate nehmen Spieler jeden Alters mit auf actiongeladene Abenteuer im Star Wars Universum. Im Jedi Destiny Modus werden beispielsweise Duelle gegen Count Dooku und Darth Vader ausgetragen und Space Battles gegen weitere Schergen des Imperiums ausgefochten – Speeder Bikes oder Landspeeders erleichtern dabei die Wege durch die Galaxis. Der Duels of Fate Modus konfrontiert Spieler mit der dunklen Seite der Macht – hier gilt es, seine Jedi-Fähigkeiten weiter zu entwickeln. Im New Galactic Dance Off Modus können Spieler eine Auszeit von Lichtschwertkämpfen nehmen und Darth Vader zur Dance Battle herausfordern – natürlich zu orginalgetreuen Star Wars-Melodien. Besitzer des Limited Edition Konsolenbundles können ausserdem einen C3PO Roboter als Charakter für den Dance Mode freischalten.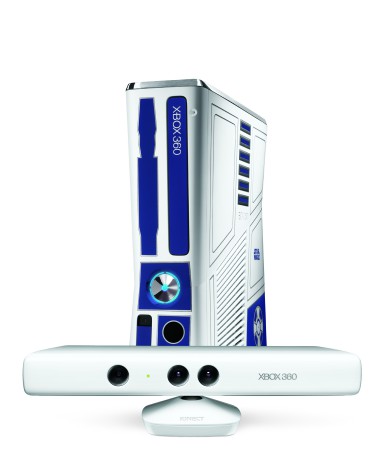 «Kinect Star Wars» ist zum Preis [2] von CHF 59.–, das Bundle für CHF 489.– ab dem 3. April im Handel erhältlich.
[1] 3D fähiges TV-Gerät notwendig.
[2] unverbindliche Preisempfehlung. Alle Distributoren und Händler sind in ihrer Preisgestaltung vollkommen frei. (pd/tom)