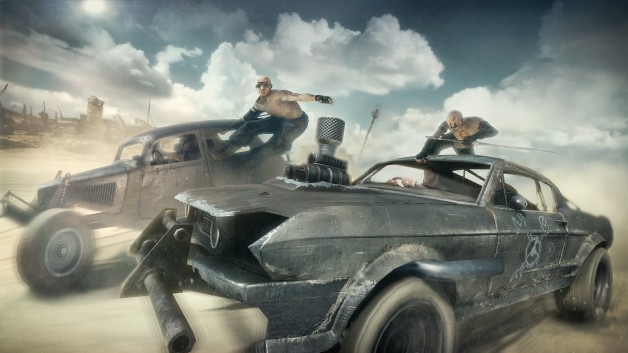 Warner Bros. Interactive Entertainment und DC Entertainment veröffentlichen zwei Comic-Trailer zum kommenden Action-Adventure «Mad Max», welches sich derzeit bei den Avalanche Studios in Entwicklung befindet. «Mad Max» erscheint 2014 für Xbox 360, PS3 und PC sowie Xbox One und PS4.
«Mad Max» - Zwei brandneue Comic-Trailer veröffentlicht (Teil 1)
Die neuen animierten Comic-Trailer geben einen Vorgeschmack darauf, wie es im kommenden «Mad Max» Game sein wird, wenn das eigene Auto wichtiger als die eigene Gesundheit ist. Darüber hinaus trifft man Chumbucket, den eigenbrötlerischen Mechaniker aus Leib und Seele, der eine zentrale Rolle Spiel einnehmen wird, und findet heraus, wie er und Max das erste Mal aufeinander treffen.
Nach der Veröffentlichung des «Mad Max» Comic-Trailers Teil 1 setzen Comic-Autor Tom Taylor («Injustice: Gods among us») und Illustrator Jason Shawn Alexander («Legends of the Dark Knight») ihre Neuerschaffung des Ödlands in Teil 2 der Serie fort. Lass Dir auf keinen Fall entgehen, wie der raue Kampf zwischen Max und den postapokalyptischen Plünderer-Banden in diesen beiden grandiosen Trailern ausgeht.


«Mad Max» - Zwei brandneue Comic-Trailer veröffentlicht (Teil 2)
«Mad Max» wartet mit rasantem Open World-Gameplay auf. Die Spieler treten gegen skrupellose Banditenbanden an und müssen in der Einöde brutale Fahrzeug-Kämpfe und andere Herausforderungen bestehen, um zu überleben. Um das ultimative Gefechtsfahrzeug zu konstruieren, absolvieren die Spieler gefährliche Missionen und durchstreifen die heimtückische Landschaft auf der Suche nach Vorräten. (pd/tom)