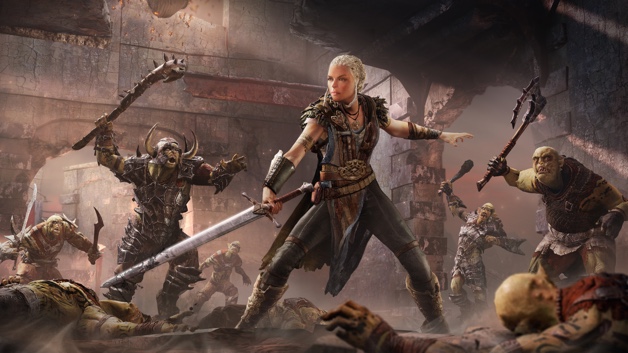 Warner Bros. Interactive Entertainment kündigt das neue, KOSTENLOSE «Power of Defiance»-Bundle mit dem neuen Lithariel-Charakterskin, Herausforderungs-Modus und epischer Rune für das vielfach ausgezeichnete Actionspiel «Mittelerde: Mordors Schatten» an, das ab sofort als kostenloses Content-Update für Xbox One, Steam und PlayStation 4 verfügbar ist.
Mit dem neuen Charakterskin werden die Spieler zu Lithariel, Kriegerkommandantin der Stämme von Nurn, und führen den Angriff gegen den Dunklen Herrscher Sauron und seine Truppen. Im neuen Test of Defiance-Herausforderungs-Modus können sie ihre Überlebens-Fertigkeiten auf die Probe stellen.
Das kostenlose «Power of Defiance»-Bundle enthält die folgenden Upgrades:
Spiele als Lithariel, Tochter von Lady Marwen, Königin vor Nurn
Test of Defiance-Herausforderungs-Modus – Spieler stellen sich dem ultimativen Test ihrer kriegerischen Fertigkeiten, während sie Saurons Warchiefs bezwingen, ohne den Tod zu hintergehen oder sich auf die Macht des Geistes zu verlassen.
Epische Rune – Defiant to the End: Die Spieler erhalten eine weitere letzte Chance, in den Kampf zurückzukehren.

«Mittelerde: Mordors Schatten» bietet eine dynamische Spielumgebung, in der der Spieler seinen persönlichen Racheplan umsetzt und Mordor seinen Willen aufzwingt. Das Spiel beginnt in der Nacht, in der Sauron nach Mordor zurückkehrt und seine Schwarzen Heermeister die Waldläufer des Schwarzen Tores brutal hinrichten. Der Spieler schlüpft in die Rolle von Talion, eines Waldläufers, der seine Familie und alles, was ihm lieb und teuer war verlor, nur um als geheimnisvoller Rachegeist von den Toten aufzuerstehen. Basierend auf dem Vorgehen der Spieler wird durch das Nemesis-System jede Feindbegegnung zu einem einmaligen Erlebnis – im Laufe der Zeit können selbst persönliche Erzfeindschaften entstehen. Während Talions Rache Gestalt annimmt, lüften die Spieler das Geheimnis des Geistes, der ihn treibt, entdecken den Ursprung der Ringe der Macht und treten dem größten aller Feinde entgegen.
«Mittelerde: Mordors Schatten» ist auf PlayStation 4, Xbox One, PC, Steam, Xbox 360 und PlayStation 3. (pd/tom)