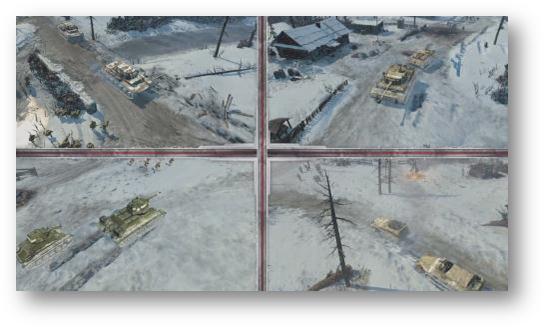 «Company of Heroes» überzeugte Spieler und Kritiker bei der Veröffentlichung im Jahr 2006 nicht nur durch eine spannende und toll inszenierte Einzelspielerkampagne. Es waren vor allem die packenden Mehrspielerschlachten, die dieses aussergewöhnliche Echtzeitstrategiespiel über Jahre hinweg so beliebt machten – der Mehrspielermodus wird bis heute intensiv online gespielt.
Multiplayer wird auch in «Company of Heroes 2» eine zentrale Rolle einnehmen, wenn der Titel im März 2013 exklusiv für PC erscheint.


Multiplayer-Trailer zu «Company of Heroes 2» verfügbar
Einen ersten Einblick in die Online-Schlachten bietet der neue Multiplayer-Trailer. Bitte verwenden Sie vorerst die englische Version des Videos – eine lokalisierte deutsche Fassung sowie den passenden YouTube-Link reichen wir nach.
«Company of Heroes 2» erscheint in Deutschland, Österreich und der Schweiz als First Edition mit Bonusinhalten. Vorbesteller können sich aktuell bei ausgewählten Händlern zudem ein limitiertes Steelbook sichern. (pd/tom)