Namco Bandain gibt bekannt, dass «Tales of Symphonia Chronicles» ab sofort exklusiv für die PlayStation 3 erhältlich ist. Die gefeierte Tales Of Symphonia-Saga kehrt in einem exklusiven Bundle in HD zurück auf den heimischen Bildschirm. In «Tales of Symphonia Chronicles» erleben die Spieler in den beiden epischen Rollenspielen «Tales of Symphonia» und dessen Nachfolger «Tales of Symphonia Dawn of the New World» die komplette Symphonia-Geschichte.
«Tales of Symphonia Chronicles» enthält zudem neue Inhalte, wie erstmalig auch die japanische Tonspur, neue Grafik-Effekte der Artes-Angriffe, spezielle Kostüme für die Charaktere genau so wie einen Casino-Bereich innerhalb der Spielwelt von «Tales of Symphonia».
Der Spieler schlüpft in die Rolle von Lloyd Irving, der sich gemeinsam mit seinen Freunden auf ein grosses Abenteuer begibt, um das Mana, eine überlebenswichtige Energiequelle, der Welt Sylvarant wiederherzustellen. Auf ihrer Reise erfahren sie von der Parallelwelt Tethe'alla, die auf das gleiche Mana wie Sylvarant angewiesen ist. Wird es Lloyd und seinen Freunden gelingen einen Weg zu finden, der das Überleben von beiden Welten garantiert? «Tales of Symphonia» nutzt das Echtzeit-Kampfsystem der Tales of-Rollenspiele, um dem Spieler die direkte Kontrolle über den Charakter während der taktischen Kämpfe zu ermöglichen.
«Tales of Symphonia Dawn of the New World» führt die Geschichte des Vorgängers fort und befasst sich mit den Konsequenzen der Taten von Lloyd und seinen Freunden am Ende von «Tales of Symphonia». Spieler übernehmen die Rolle von Emil Castagnier, der herauszufinden versucht, was mit seiner Welt geschehen ist. «Tales of Symphonia Dawn of the New World» entwickelt das Kampfsystem der Serie weiter und führt ein neues Monster-Anwerbungs-Feature ein, durch das der Spieler mehr als 200 einzigartige Monster einfangen und trainieren kann, damit sie für ihn im Kampf antreten. Auf die Party-Mitglieder und die alliierten Monster hat der Spieler jederzeit vollen Zugriff, was ihm unzählige Kombinationen auf dem Schlachtfeld ermöglicht.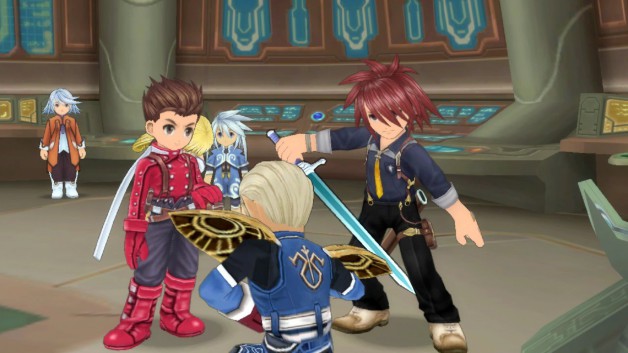 Die Standard und Collector's Edition von «Tales of Symphonia Chronicles» ist ab sofort im Handel erhältlich. (pd/tom)