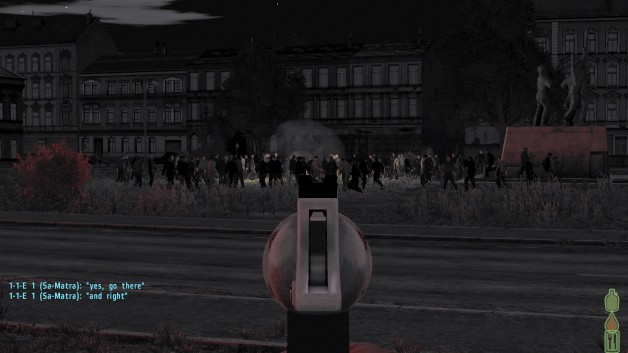 Der neuste Hype der Internet-Gamergemeinschaft ist ein Mod für das Spiel «Armed Assault II», oder kurz: «Arma II» das «DayZ» heisst. Zur Erklärung: «Arma II» ist ein Open-World Shooter in welchem man einen Charakter steuert und tun und (militärisch) lassen kann was einem beliebt. «DayZ» ist ein Mod für besagten Militärshooter, wird online auf privaten Servern gespielt und ob ihr mit anderen Leuten zusammen gegen Zombies kämpft oder aber lieber die Überlebenden verarscht ist alleine Euch überlassen. Das Mod ist derzeit noch in einer frühen, rauhen Alphaversion erhältlich und bietet beim Gameplay eine Mischung aus «Left 4 Dead», «STALKER» und «Fallout».
The Days Ahead - Welcome to New Chernarus
Das Spiel ist düster und brutal. Man hat keine Karte bis man eine findet. Man sieht keine Punkte auf dem Radar die einen vor anderen Spielern warnt. Alles was man hört ist das Gezwitscher der Vögel und das Rauschen der Blätter im Wind. Wenn Du irgendwo hin willst, musst Du laufen, wenn Du was mitnehmen willst, musst Du schauen das Du genügend Platz und Tragkraft hast.
Als wäre das alles nicht schon schwer genug, müsst ihr im Game auch noch essen und trinken… und das wollt ihr tun, den die Welt und Euer Charakter ist persistent: Wenn ihr das Spiel verlässt während ihr am Leben seid, wird Euer Gear gespeichert und beim erneuten Login seid ihr wo ihr wart mit den Gegenständen die ihr hattet. Wenn ihr sterbt sieht die Sache ganz anders aus: Der Tod ist endgültig, die Waffen und Konserven mit dicken Bohnen die ihr mühsam zusammengesucht habt sind unwiderruflich verloren.
Und wenn Euch das jetzt noch nicht abgeschreckt hat, ihr «Arma II» mit der Erweiterung Operation Arrowhead bereits besitzt, surft auf die offizielle Seite von «DayZ» und holt Euch die Mod.
Viel Spass beim Zombiejagen.