«Games To Listen» #169: «TxK» und «Titan Attacks!»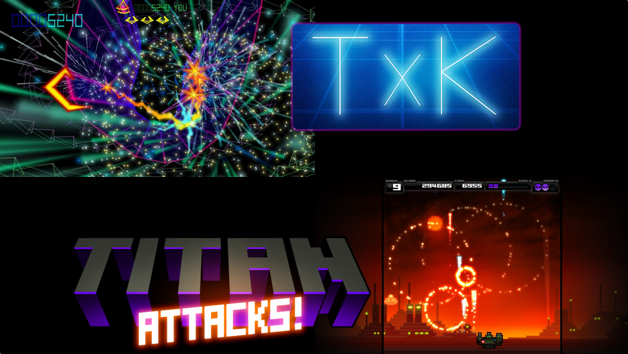 Die neueste Folge #169 von «Games to Listen» bringt gleich doppelt Freude. In dieser Episode besprechen wir gleich zwei Titel und beide Spiele haben ihre Wurzeln in Spielhallengames aus längst vergangenen Zeiten. Zuerst besprechen wir «TxK», welches seine Wurzeln im Spielhallenautomaten «Tempest» aus dem Jahre 1981 hat, danach ist «Titan Attacks!» an der Reihe, das sich stark an «Space Invaders» aus 1979 orientiert.

Beide Spiele haben uns richtig Spass gemacht und die Umsetzung auf die heutigen Konsolen ist durchaus gelungen. In «TxK», einem Arcade Shooter mit Vektorgrafik, hat uns vor allem die Grafik und der Sound überzeugt. Die Steuerung ist ebenfalls perfekt implementiert und für Langzeitspielspass ist dank der 100 Levels auch gesorgt, auch wenn wir uns ein wenig mehr unterschiedliche Gegner gewünscht hätten. Beim Arcade Shooter «Titan Attacks!» ziehen wir ein ähnliches Fazit wie bei «TxK», hier spielt man sich durch 5 Welten mit je rund 10 Levels, dafür hat der Spieler mehr Upgrademöglichkeiten für sein Raumschiff. Bei beiden Spielen sorgt dafür die Online-Highscoreliste noch für zusätzlichen Spielspass, hier kann man sich mit Freunden oder den Besten der Welt messen.
Wir vergeben für Llamasofts «TxK» 4 und für «Titan Attacks!» aus dem Hause Puppygames 3.5 von 5 möglichen Smartbomben.
Abonniert den Podcast in iTunes oder abonniert den MP3 Feed (für Android und Co.). Wir freuen uns über jeden Kommentar. Viel Spass wünscht das «Gamester.tv»-Team.
Tags:
Episode 169
,
Games To Listen
,
Linux
,
OSX
,
PC
,
PlayStation 3
,
PlayStation 4
,
Podcast
,
PS Vita
,
Review
,
Titan Attacks
,
TxK
,
Windows