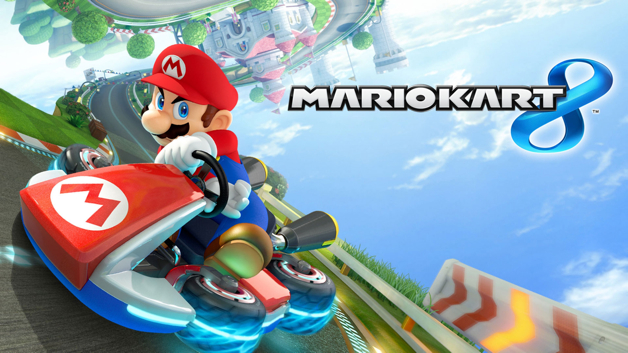 Die 170ste Folge von «Games to Listen» ist länger als üblich, weil wir bei der Besprechung von «Mario Kart 8» einige Extrarunden gedreht haben. Als «Mario Kart»- und Nintendofans der ersten Stunde wollten wir den neuesten Knüller auf der Wii U auch dementsprechend würdigen. Das Wiedersehen mit den Figuren aus Super Mario Welt überzeugt uns auch in der 8. Ausgabe, die 32 Strecken und 30 Charaktere garantieren für Stunden Spielspass, offline wie online.
«Mario Kart 8» für Wii U ist der erste Titel aus der Serie in HD-Auflösung und die Rennstrecken sehen wirklich bezaubernd aus. Man merkt dem Spiel die Liebe zum Detail an. Das fängt bei Finessen wie dem Schnauzer von Mario oder der blonden Haarpracht von Peach die sich im Wind bewegen an und setzt sich im Design der Rennstrecken fort, die man vorwärts und rückwärts befahren kann. Wir gehen in unserer Besprechung ausführlich auf die verschiedenen Spielmodi ein und haben hier auch einer der wenigen Punkte für Kritik am Spiel ausgemacht. Der Cup-Modus ist und bleibt das Kernstück diese Spiels und auch die drei Schwierigkeitsgrade sind bereits aus den Vorgängern bekannt. Von den 32 Strecken ist die eine Hälfte neu und die andere Hälfte besteht aus Remakes aus früheren Spielen. Dank den vielen Routen und Abkürzungen sowie den neuen Antigravitationsabschnitten, in welchen wir den sogar Wänden entlang fahren, wirken auch die älteren Strecken erfrischend neu. Die Waffen die man im Spiel einsetzen kann, wie Schildkrötenpanzer und Bananenschalen sind teilweise altbekannt. Aber auch hier hat Nintendo kleine aber feine Anpassungen vorgenommen, einige Items sind jetzt weniger stark oder können mit den neuen Waffen sogar geblockt werden.
Nintendo hat mit dem 8. Titel den Thron der Spassracer erfolgreich verteidigt und bringt Spielspass pur für jedes Alter, ob man Anfänger oder bereits ein alter Hase ist, spielt dabei absolut keine Rolle. Wir vergeben 4.5 von 5 Gamester-Karts für «Mario Kart 8».
Die ausführliche Besprechung von «Mario Kart 8» gibt es «Games to Listen» #170:
Abonniert den Podcast in iTunes oder abonniert den MP3 Feed (für Android und Co.). Wir freuen uns über jeden Kommentar. Viel Spass wünscht das «Gamester.tv»-Team.