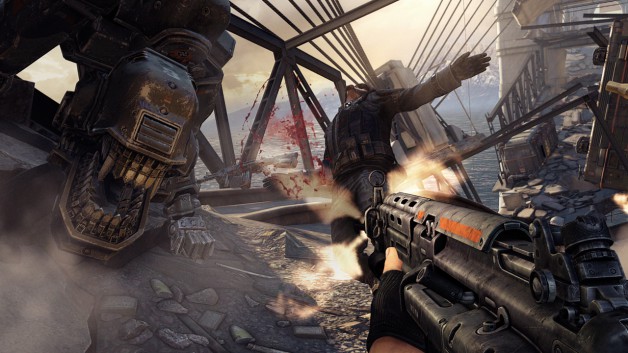 Die US-Armee startet einen letzten verzweifelten Angriff, um den Zweiten Weltkrieg zu beenden. Der Protagonist Captain William B. J. Blazkowicz ist bei diesem Angriff dabei. Der Einsatz geht schief und unser Held kommt nur knapp mit dem Leben davon. 14 Jahre vergehen in einer polnischen Anstalt bis Blazkowicz aus dem Koma erwacht. Dort erfährt er, dass das Deutsche Regime die USA in die Knie zwang und nun die Weltherrschaft hat. Zeit für B.J. daran etwas zu ändern.
«Wolfenstein: The New Order» schafft den Spagat zwischen klassischen und modernen Shooter-Elementen. Die Gesundheit wird nicht automatisch regeneriert. Nur Medipacks bringen unseren Helden wieder auf Vordermann. Offene Schauplätzen mit verschiedenen Routen und Lösungsansätzen zeigen schnell, dass es mehr als nur Schlauchlevels gibt. Sehr oft hat man die Wahl zwischen Schleichen oder einem Frontalangriff. Die Übergänge sind jederzeit fliessend.
Unserem Helden stehen neben der Pistolen und Maschinengewehre auch grössere und modernere Waffen zur Verfügung. Ob mit einer oder zwei Waffen gleichzeitig, steht dem Spieler jederzeit offen. In den heftigen Schussgefechten spritzt viel roter Lebenssaft und ab und zu bröckelt auch die Fassade in den Levels. Battlefield-Zerstörungsorgien erreicht «Wolfenstein: The New Order» aber nicht.
Ungewöhnlich ist die Absenz eines Multiplayermodus. Die lange Kampagnen-Spielzeit von 12-15 Stunden auf dem normalen Schwierigkeitsgrad lässt den Multiplayer aber schnell vergessen. Ein zweiter Geschichtsstrang, extra Levels, freischaltbare Artworks und mehrere Schwierigkeitsgrade animieren zu einem zweiten Durchspielen. Störend fanden wir nur das ständige manuelle Aufsammeln der Munition durch einen Tastendruck.
Herausgekommen ist ein guter Singelplayer-Shooter. Tolles Leveldesign, eine gut inszenierte Story und abwechslungsreiche Ballersequenzen überzeugen. Die ordentliche Grafik und die tolle Vertonung runden das Ganze ab. «Wolfenstein: The New Order» hat von uns 4 von 5 Gamesterpunkte verdient.
Mehr zu «Wolfenstein: The New Order» könnt Ihr «Games To Listen #172» Nachhören:
Abonniert den Podcast in iTunes oder abonniert den MP3 Feed (für Android und Co.). Wir freuen uns über jeden Kommentar. Viel Spass wünscht das «Gamester.tv»-Team.