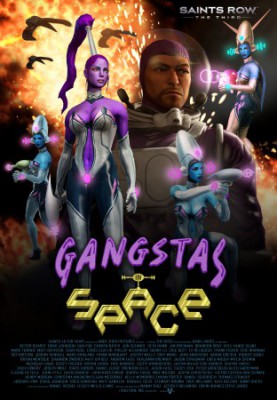 Im zweiten herunterladbaren Missionspaket zu «Saints Row: The Third» kommt ein Hauch von Hollywood direkt nach Steelport. Andy Zhen, ein Teufelskerl von einem Regisseur, hat Sie als Hauptdarsteller in seinem neuen Blockbuster «Gangstas in Space» auserwählt. Sie spielen einen ehrenwerten Gangster, der den Planeten gegen spärlich bekleidete Aliens verteidigen muss. Diese sind mit Laserstrahlern, Raumschiffen und Raumschiffen mit Laserstrahlern ausgerüstet.
«Gangstas in Space» - Zweites Missionspaket zu «Saints Row: The Third» veröffentlicht
Im Kampf gegen die Aliens treffen Sie auf die aufstrebende und dann auch ganz schnell wieder in der Versenkung verschwindende Schauspielerin Jenny Jaros, die die Rolle der Prinzessin Kwilanna mimt. «Gangstas in Space» bietet sogar eine riesige Alien-Raumstation, die Aegian, neue Anpassungsoptionen für die Alien-Gang und die Gang-Mitglieder Kwilanna und Space Brutina. Allzeit bereit – jetzt auch im Weltall!
«Gangstas in Space» ist seit Mittwoch, dem 22. Februar, auf Xbox Live, Sony Entertainment Network und Steam verfügbar. Das Paket kann von Besitzern des Saints Row Season Pass kostenlos heruntergeladen werden. (pd/ts)