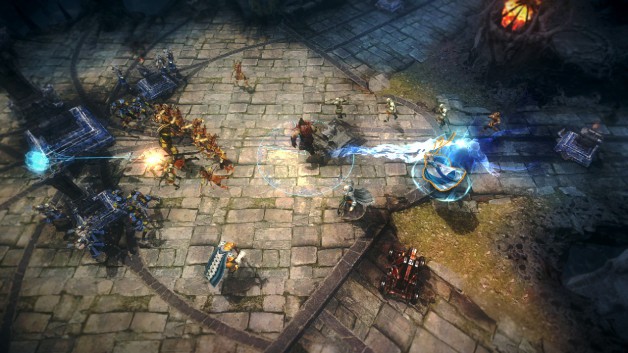 Warner Bros. Interactive Entertainment enthüllt in zwei Gameplay Videos vier neue Charaktere des MOBA-Titels (Multiplayer Online Battle Arena) «Guardians of Middle-earth», welcher ab dem 4. Dezember 2012 für PlayStation Network (ca 19 CHF) und Xbox Live Arcade (1200 MS Points) erscheinen wird.
Das erste Video stellt den Zwerg Nori und den dunklen Zauberer Wulfrun vor und zeigt deren Fähigkeiten und Stärken im Kampf. Nori ist einer der 13 Zwerge, die Bilbo Beutlin im Kinofilm «Der Hobbit: Eine unerwartete Reise» (Regie: Peter Jackson, Produktion: New Line Cinema und Metro-Goldwyn-Mayer) begleiten, der am 13. Dezember 2012 anläuft. Wulfrun ist ein dunkler Zauberer aus Carn Dum, der sich Sauron angeschlossen hatte.


«Guardians of Middle-earth»- Zwei Gameplay Videos zeigen vier neue Charaktere
Das zweite Video präsentiert die Besonderheiten zweier weiterer Charaktere: Beregond, der zwanzigste herrschende Truchsess von Gondor, ist ein begabter Kämpfer und kann immensen Schaden austeilen, Felgrom hingegen, ein mächtiger aber wahnsinniger Bilwiss, verfügt über alles verbrennende Angriffe, die eine verheerende wie tödliche Wirkung entfalten.
«Guardians of Middle-earth»- Zwei Gameplay Videos zeigen vier neue Charaktere
In «Guardians of Middle-earth» treten zwei Teams mit bis zu fünf Spielern in Mehrspieler-Kampfarenen gegeneinander an, die auf bekannten Mittelerde-Schauplätzen basieren. Die Spieler schlüpfen in die Rollen von mehr als 20 Kultcharakteren – darunter Gandalf, Sauron, Gollum, Thráin und viele andere – und bekämpfen einander in PVP-Matches (Player versus Player). Neben einem integrierten Sprachkommunikationssystem steht den Spielern ein umfassendes Online-Statistik- und Bestenlisten-System zur Verfügung, durch das sie verschiedene Leistungen, Siege und Niederlagen ihrer Freunde verfolgen können. (pd/tom)