Das unabhängige Entwicklungsstudio Mimimi Productions und Publisher Unity Games haben das heiss erwartete 3D-Action-Adventure «The Last Tinker: City of Colors» für PC/Mac/Linux via Steam veröffentlicht. «The Last Tinker» ist der neueste Release für Desktops von Unity Games und Teil ihres Programms, unabhängige Entwickler zu präsentieren und zu unterstützen. In «The Last Tinker» kämpfen die Spieler als Koru gegen die Mächte des Bösen. Koru ist ein fröhlicher und athletischer Junge mit einzigartigen Fähigkeiten, der das Licht und das Leben in seine Heimat zurückbringen will. «The Last Tinker: City of Colors» ist verfügbar für €21.99 über den digitalen Distributionsservice Steam: steam.thelasttinker.com
Wir freuen uns, heute «The Last Tinker» auf Steam zu veröffentlichen und sind gespannt auf die Reaktionen der Spieler. Die einzigartige Mischung aus lebhaften Farben und wunderschönen Landschaften, die das Spiel mitbringt, verbunden mit modernem und spassigem Gameplay im Adventure-Stil, ist eine Traumkombination, die Spieler aller Altersklassen lieben werden,
so Johannes Roth, CEO von Mimimi Productions.
In einer Welt, in der Kreativität durch Konflikte verdrängt wurde, sucht ein Strassenjunge aus den Slums von Farbstadt nach Wegen, den Funken der Fantasie wieder in seiner Heimatstadt zum Glimmen zu bringen. Als Koru müssen die Spieler die Macht der Farben nutzen, um die Bleiche zu besiegen und Colortown wieder farbenfroh zu machen. Durch eine charmante Mixtur aus modernem Platformer und dem farbenfrohen Stil ist «The Last Tinker» ein einzigartiges Abenteuer.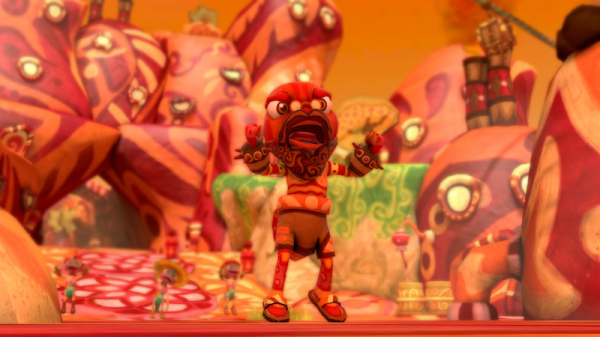 Neben dem Preis "Bestes Spiel der Show, Publikumspreis" auf der Casual Connect 2014, hat «The Last Tinker» zusätzlich noch den Preis als "Bestes Projekt" auf der Game Connection 2011 gewonnen. (pd/tom)