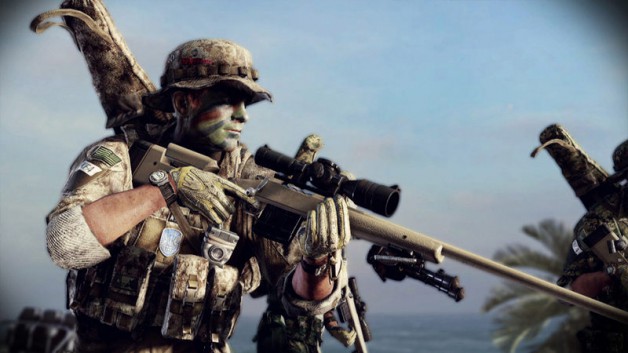 Ab sofort können Spieler in Deutschland, Österreich und der Schweiz mit «Medal of Honor Warfighter» in die Rolle von Elitesoldaten schlüpfen, um virtuell auf PC, PS3 und Xbox 360 gegen den globalen Terrorismus zu kämpfen.
«Medal of Honor Warfighter» wurde von echten amerikanischen Tier 1-Elitesoldaten während ihrer Auslandseinsätze geschrieben und bietet einen Einblick in reale Ereignisse und globale Bedrohungen. Es lässt Spieler die Einsätze und Action nahezu so erleben, wie sie sich zugetragen haben. «Medal of Honor Warfighter» stellt damit den authentischsten Militär-Shooter des Jahres dar.
In der Einzelspielerkampagne übernehmen die Spieler die Rolle von Tier 1-Elitesoldaten und bekämpfen Terroristen, die die Welt mit der tödlichen Chemikalie PETN in Angst und Schrecken versetzen. Egal ob Geiselbefreiung in Abu Sayyafs Festung in Basilan auf den Philippinen oder Angriff auf Al-Shabaabs "Piratenstadt" an der Küste von Somalia – «Medal of Honor Warfighter» ist innovatives Gameplay inspiriert von Erlebnissen echter Soldaten, tatsächlichen Operationen und bestehenden Krisengebieten.
Der Entwickler Danger Close führt zudem zwölf militärische Eliteeinheiten aus zehn unterschiedlichen Nationen ein, darunter das deutsche KSK, die polnische GROM, das kanadische JTF-2 und die US-amerikanischen Navy SEALs. Das innovative Multiplayer-Design von «Medal of Honor Warfighter» ermöglicht es den Spielern, ihre Nation zu repräsentieren und sich mit den besten Gegnern aus aller Welt in Online-Wettkämpfen zu messen.


«Medal of Honor Warfighter» bietet mit den sogenannten Fireteams ausserdem ein neues kooperatives Multiplayer-Feature. Schliesst ein Spieler sich auf dem Schlachtfeld mit einem Freund zusammen, erhält er dadurch einen Vorteil und wird belohnt. Um das Fireteam-Feature zu erleben und ihren globalen Warfighter zu präsentieren, stehen den Spielern insgesamt acht Karten realer Schauplätze zur Verfügung. Zur Wahl stehen ferner fünf einzigartige Spielmodi, wie zum Beispiel der nervenzehrende Krisengebiet-Modus und der rasante Homerun-Sportmodus.
«Medal of Honor Warfighter» ist erhältlich für Xbox 360, PS3 und PC. Die «Medal of Honor Warfighter» Limited Edition enthält in Deutschland, Österreich und der Schweiz zusätzlich das The Hunt-Kartenpack ohne zusätzliche Kosten.
Diese Erweiterung ist ab der Woche vom 17. Dezember 2012 für PC, PlayStation 3 und Xbox 360 auch separat verfügbar und für ca 12,95 Euro erhältlich. (pd/tom)