«Games To Listen» #167: «Trials Fusion»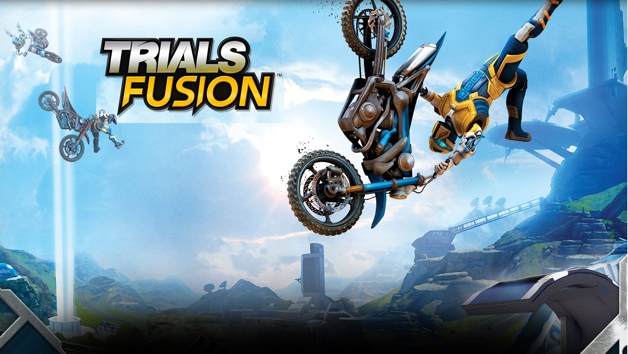 «Trials Fusion» ist ein herunterladbares 2.5D Plattform Rennspiel, welches von RedLynx entwickelt und von Ubisoft für Xbox 360, Xbox One, PlayStation 4 und PC vertrieben wird. Man steuert wie in den Vorgängern einen Motorradfahrer beim Überqueren von Hindernissen. Für 25.- CHF mit 40 Strecken, verteilt auf 8 Welten bietet «Trials Fusion» wieder ein kurzweiliges und ebenso abwechslungsreiches Spielvergnügen.
Auch Wochen später ist man motiviert, frustriert und fasziniert von dem Titel. Alles gleichzeitig. Die Herausforderungen sind knackig und es gibt nichts Schöneres als die Zeit eines Kollegen zu unterbieten. Die Strecken sind meist hervorragend designed und steigern langsam den Schwierigkeitsgrad. An die Optik im Zukunftsszenario mit Neonfarben hat man sich nach wenigen Minuten gewöhnt.
Die Akrobatik-Level sind ein neues, gutes Element, wenn auch noch eher "bescheiden" was die Streckenauswahl angeht. Ausserdem darf man erstmals auf einigen Strecken einen Quad steuern. Das etwas grössere Fahrzeug fühlt sich träger an, steuert sich aber ähnlich wie die Zweiräder. Wir konnten jedoch die eine oder andere Strecke mit dem Quad einfacher meistern.
Der Offline Sofamodus für gleichzeitig bis zu vier Spieler hat uns bereits jetzt viel Freude bereitet. Der noch fehlende Onlinemultiplayer Modus hat uns nicht gefehlt. Dieser soll aber als kostenloser Patch nachgereicht werden. Der eingebaute Editor wird sicherlich für tolle Streckennachschübe in der Community sorgen.
«Trials Fusion» erhält von uns 4 von 5 Gamester-Zylinder. Mehr zum Spiel gibts in «Games To Listen» #167»:
Abonniert den Podcast in iTunes oder abonniert den MP3 Feed (für Android und Co.). Wir freuen uns über jeden Kommentar. Viel Spass wünscht das «Gamester.tv»-Team.
Tags:
Delux Edition
,
DLC
,
Download
,
Episode 167
,
Games To Listen
,
iOS
,
PC
,
PlayStation 4
,
Podcast
,
PSN
,
Red Lynx
,
Review
,
Trials Fusion
,
Ubisoft
,
XBL
,
Xbox 360
,
Xbox One