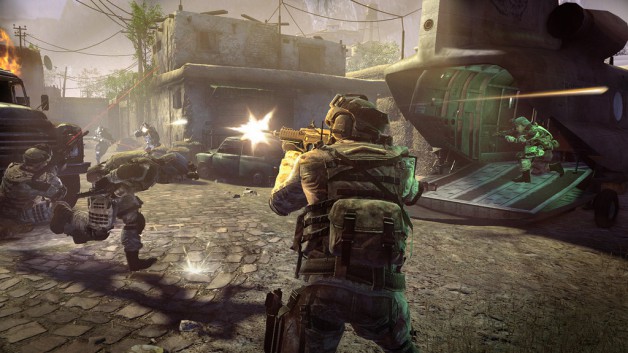 «Warface», der Online-Shooter von Crytek, bekommt zwei neue Spielmodi spendiert: Tower Raid, ein herausfordernder Co-Op Modus und Capture, eine eigene Interpretation des Klassikers Capture the Flag.
Wir sind unglaublich aufgeregt, unser bisher grösstes Update ankündigen zu dürfen. Wir versuchen das «Warface» Universum ständig auszubauen und sowohl die extreme Herausforderung des Tower Raids als auch der beliebte Capture-Spielmodus bietet unserer Community ein grossartiges Umfeld die Waffen sprechen zu lassen. Mit der Kombination dieser neuen Inhalte und den frischen täglichen Missionen hoffen wir den Spielern eine Spielerfahrungen bieten zu können, mit der sie immer wieder Spass haben,
sagt Elijah Freeman, Executive Producer von «Warface».
Tower Raid ist ein neuer Co-Op Modus der voll auf Teamplay setzt und eine wirkliche Herausforderung für alle Spieler darstellt. Die Mission ist es, einen hochrangigen Blackwood Mitarbeiter – ein absolutes Raubtier innerhalb seiner machthungrigen Organisation – zur Strecke zu bringen. Das Team «Warface» muss sich von Stockwerk zu Stockwerk nach oben kämpfen mit dem Ziel die Welt von diesem Feind zu befreien.
Capture ist ein klassischer Versus-Modus und «Warface» eigene Interpretation von Capture the Flag. Er versetzt zwei gegnerische Teams in eine Schlacht um einen Koffer mit nuklearen Startcodes. Das verteidigende Team gewinnt, wenn die Gegner daran scheitern den Koffer zu erbeuten, die Angreifer sobald sie ihn zur eigenen Basis zurück gebracht haben. Als Alternative lässt sich natürlich auch das gegnerische Team vollständig eliminieren.
«Warface» ist ein actiongeladener Free-to-Play Online Shooter von Crytek. Das Spiel bietet eine Vielzahl an verschiedenen kooperativen und Spieler-gegen-Spieler Modi, vier unterschiedliche Klassen und legt einen besonderen Schwerpunkt auf die Zusammenarbeit der Spieler als Team. Interessierte können sich unter www.Warface.com anmelden und sofort mit täglich wechselnden Missionen – geeignet für Anfänger und Profis – loslegen. (pd/tom)