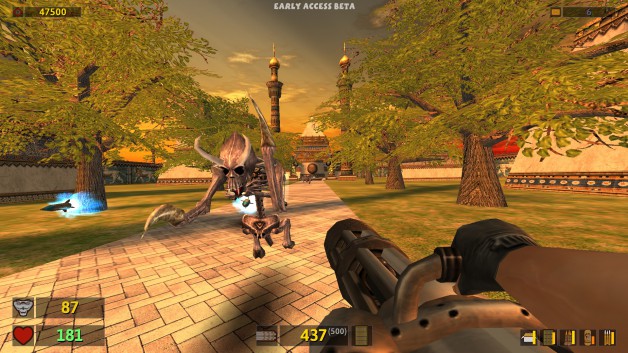 Croteam und Devolver Digital geben hiermit bekannt, dass Alligator Pit, ein Indie-Entwickler, der aus Serious Sam-Fans besteht, «Serious Sam Classics: Revolution» via Steam Early Access veröffentlicht hat. Das Spiel wurde dabei von der Serious Sam-Community unter der Leitung von Croteam entwickelt und vereint «Serious Sam Classic: The First Encounter» und «The Second Encounter» und verfeinert die Titel mit neuer Technik, neuen Gameplay-Varianten, neuen Inhalten für die Kampagne und jeder Menge beliebter Fan-Mods, Waffen und Karten.


Serious Sam: Revolution Official Trailer
Das ursprüngliche «Serious Sam: The First Encounter» und «The Second Encounter» wurden bereits 2001 und 2002 veröffentlicht und erfreuen sich seitdem weltweiter Beliebtheit. In den letzten zwölf Jahren sind zahlreiche Fortsetzungen und Ableger der beliebten Spieleserie erschienen. «Serious Sam Classics: Revolution» wurde ursprünglich von einem kleinen Team treuer Fans begonnen und soll das beliebte Original auch den heutigen Spielern zugänglich machen und gleichzeitig neue Inhalte für die Serious Sam Classic-Community liefern. Unter Einbeziehung von Steam Early Access und Steamworks entstehen unter der Leitung von Fans nicht nur neue Inhalte und Spielvarianten für den beliebten Shooter – vielmehr wird auch die Technik immer auf dem neuesten Stand gehalten. So unterstützt diese Version des Spiels Multiplayer-Matches für bis zu 42 Spieler gleichzeitig, 64-Bit-Technik und verfügt darüber hinaus über einen integrierten Editor, Splitscreen-Support und Steamworks-Integration.
«Serious Sam Classics: Revolution» ist ab sofort via Steam Early Access erhältlich und kostet zum Launch nur 4,50 Euro – was einem Nachlass von 50 Prozent entspricht. Und wer «Serious Sam Classic: The First Encounter» und «The Second Encounter» bei Steam schon besitzt… der bekommt diese neue Version einfach so. Umsonst. BOOM! (pd/tom)