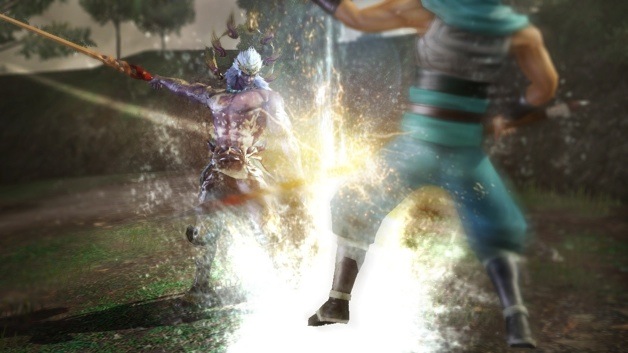 «Warriors Orochi 3» vereint die beliebten Helden aus den Serien «Dynasty Warriors» und »Samurai Warriors» in einer vollkommen neuen Geschichte. Erstmals gehören auch Charaktere aus «Ninja Gaiden», «Warriors: Legends of Troy», «Bladestorm, «Trinity: Souls of Zill O'll» und «Dead or Alive» zum Ensemble.
Über «Warriors Orochi 3»:
Viele Jahre nach der Schlacht gegen den Schlangenkönig Orochi kämpfen die drei Königreiche und die streitenden Ländereien noch immer um die Vorherrschaft im neu erschaffenen Reich. Völlig unerwartet werden alle mit einer furchtbaren neuen Gefahr konfrontiert. Ein schreckliches und riesiges Monster, das einer achtköpfigen Schlange ähnelt, wirft seinen mächtigen Schatten über das Land und besiegt die meisten der tapferen Krieger. Die wenigen Überlebenden reisen mit Hilfe des geheimnisvollen Kaguya in der Zeit zurück, um die gefallenen Mitstreiter zu retten und neue Allianzen zu schmieden. Dabei entdecken sie mächtige Waffen und rekrutieren eine ganze Armee, um gegen die grausame Hydra zu bestehen. Doch damit nicht genug: Durch den von Orochi erschaffenen Zeitstrudel greifen weitere Verbündete in den Kampf ein. Dragon Ninja Ryu Hayabusa, Achilles, Jeanne d'Arc, Nemea und Ayane sind nur einige der neuen Recken – insgesamt gibt es mehr als 120 spielbare Charaktere!
Der Titel erscheint in Europa am 30. März 2012 auf Xbox 360 und PlayStation 3. (pd/tom)
[nggallery id=77]