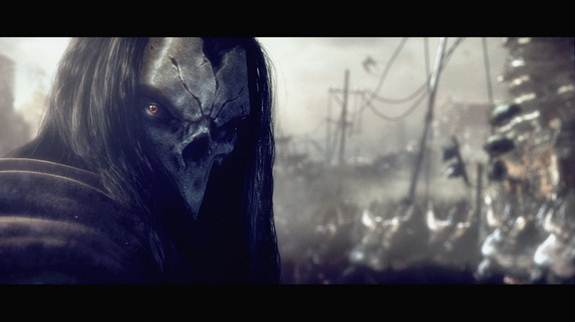 Da ist eine kleine Kirche irgendwo auf der Erde. Eine Hand voll Überlebende hat sich in das Haus Gottes zurückgezogen. Die Angst vor der tobenden Apokalypse ist allgegenwärtig. Ein Priester wendet sich ein letztes Mal verzweifelt an Gott – die Situation ist aussichtslos, es ist an der Zeit für Busse, das ist "die letzte Predigt". Wer kann die Menschheit nun noch vor dem Untergang bewahren?
Im neuen Trailer zum Action-Adventure «Darksiders II» übernimmt US-Schauspieler James Cosmo (bekannt aus Game of Thrones, Sons of Anarchy oder Braveheart) die Rolle des Priesters, der einen Blick nach draussen auf die anrückende und übermächtige Armee der Dämonen wagt.
Doch es gibt Hoffnung: Tod stellt sich zwischen die Menschen und die Kreaturen der Hölle – kann Tod die Menschheit noch retten?


«Darksiders II» erscheint am 17. August 2012 für Xbox 360, PlayStation 3 und Windows PC. Die Veröffentlichung von «Darksiders II» ist zu einem späteren Zeitpunkt ebenfalls für Nintendo Wii U geplant.