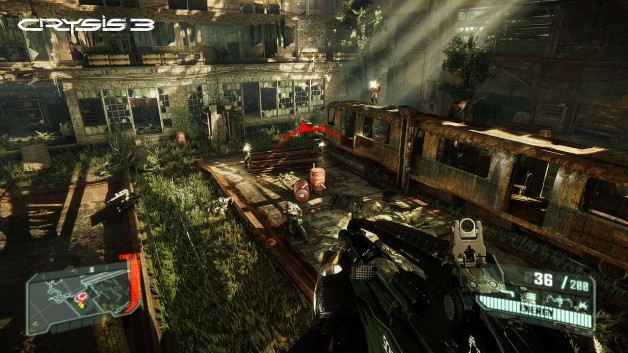 Der Countdown bis zum Start von «Crysis 3» hat begonnen! In sechs Tagen werden Electronic Arts und der preisgekrönte Entwickler Crytek «Crysis 3» weltweit auf die Spieler loslassen. Die Erwartungshaltung ist seit Monaten stetig gestiegen, weil Presse und Fans gleichermassen voller Lob für die grossartige Grafik und den verbesserten Nanosuit sind. Über drei Millionen Spieler haben die Multiplayer-Beta von «Crysis 3» in den vergangenen Wochen weltweit heruntergeladen. Ausserdem verschlingen die Spieler geradezu die YouTube-Videos von Prophet, dem Nanosuit und den 7 Wundern von New Yorks Liberty Dome, mit mehr als 16 Millionen Klicks auf dem offiziellen Crysis-YouTube-Kanal.
The 7 Wonders of Crysis 3 - Final Episode: "End of Days"
Dank der eigenen CryENGINE von Crytek setzt «Crysis 3» mit einer unvergleichlichen Grafik und einem dynamischen Shooter-Gameplay einmal mehr neue Massstäbe. Spieler schlüpfen in die Rolle von Prophet, der nach New York zurückkehrt und feststellen muss, dass die gesamte Stadt unter einem Nanodom, dem Liberty Dome, der korrupten Cell Corporation liegt. Der Liberty Dome von New York ist buchstäblich ein Grossstadtdschungel mit wuchernden Bäumen, feuchten Sümpfen und reissenden Flüssen. Innerhalb dieses Liberty Dome haben mittlerweile sieben getrennte und tückische Regionen als Sieben Wunder traurige Berühmtheit erlangt. Diese gefährliche neue Welt schreit förmlich nach modernen Waffen und Strategien. Wer in diesem New York bestehen will, benötigt Taktik, Geschick und Schnelligkeit.
«Crysis 3» ist ab dem 21. Februar 2013 auf PC, Xbox 360 und PS3 erhältlich. (pd/tom)