«Games To Listen» #131: «FTL: Faster Than Light»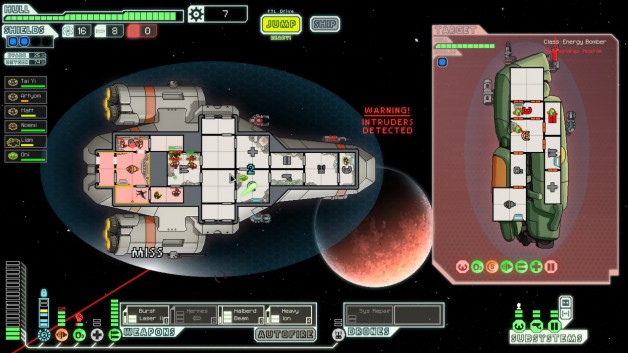 Versuchen, scheitern, neu beginnen. Das Weltraum-Taktikspiel «FTL: Faster Than Light» erinnert stark an Spiele aus den 80er und frühen 90er. Der Weg ist das Ziel, wer unterwegs das Zeitliche segnet, muss wieder von vorne anfangen. Frustpotential inbgeriffen!
In «FTL: Faster Than Light» übernimmt man das Kommando eines Raumschiffs. Unser Auftrag: Kriegswichtige Informationen zu den Verbündeten am Ende der Galaxie bringen und sich dabei nicht von den Rebellen, welche uns verfolgen, erwischen lassen.
Gefechte tragen wir in pausierbarer Echtzeit aus. Legen wir den Schildgenerator des Gegners lahm, greifen wir die Sauerstoffversorgung der Crew an oder konzentrieren wir uns auf die Waffenzentrale? Unsere Gegner werden bei jedem Spielstart per Zufall zusammengesetzt und erfordern von uns immer neue Strategien. Dank unserem frei aufrüstbaren Schiff, der in Erfahrung und Level aufsteigenden Mannschaft, Extramodule, Treibstoff- und Munitionsverbrauch sowie unterschiedliche Waffen bietet «FTL: Faster Than Light» viel strategischen Tiefgang.
Wie das alles funktioniert, wo die Tücken liegen und welche Taktik in «FTL: Faster Than Light» die beste ist, könnt Ihr euch in «Games To Listen» 131 anhören.
Abonniert den Podcast in iTunes oder abonniert den MP3 Feed (für Android und Co.). Wir freuen uns über jeden Kommentar. Viel Spass wünscht das «Gamester.tv»-Team.
Tags:
Episode 131
,
FTL: Faster Than Light
,
Games To Listen
,
OSX
,
Podcast
,
Review
,
Strategie
,
Windows