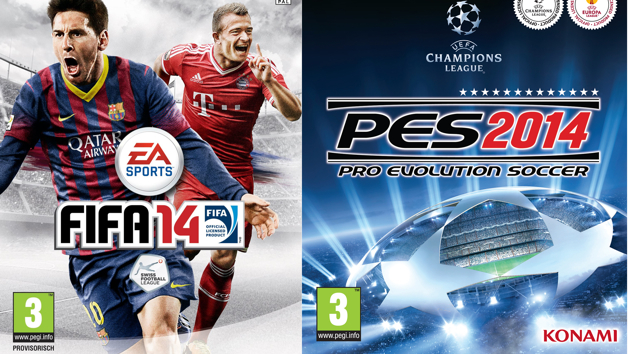 Beim Fussball-Gigantentreffen siegt «FIFA 14» gegen Konamis spielerischer Vorzeigekick «Pro Evolution Soccer 2014». Fussballexperte Raphael und Fussballfan Tom besprechen im Podcast «Games To Listen #144» die Stärken und Schwächen beider Fussballspiele.
Anders als im Podcast erwähnt ist «FIFA 14» nicht am 19. September sondern erst am 25. September 2013 erschienen. Nichtsdestotrotz glänzt «FIFA 14» auch dieses Jahr mit einer grossen Anzahl an Lizenzen, blitzsauberer Präsentation und tollem Online-Service. Viele kleine Verbesserungen, neue Modi und ein hervorragendes Spielgefühl machen «FIFA 14» zum Fussballmeister aller Klassen. «FIFA 14» bietet Neulinge einen einfachen Einstieg und dank den diversen Schwierigkeitsgraden und Taktikeinstellungen auch für Profis eine Herausforderung. Aus diesem Grund erhält «FIFA 14» mit 4.5 von 5 Gamesterpunkten eine top Spielspasswertung.
«Pro Evolution Soccer 2014» bietet dieses Jahr wieder ein starkes "Core Gameplay". Hübschere Animationen, verbesserte Ballphysik und eine gute Atmosphäre überzeugen. Dem virtuellen Fussballprofi wird es dank den fast endlosen Taktikeinstellungen so richtig warm ums Herz. Die Enttäuschung folgt postwendend beim virtuellen Einlaufen. Probleme mit der Framerate bei Wiederholungen und Präsentationen, Onlineprobleme und fehlende Teams wie Dortmund und Basel haben trotz Champions League Lizenz den Spass getrübt. Trotzdem konnten wir «Pro Evolution Soccer 2014» mit 4 von 5 Gamesterpunkten gute Wertung vergeben.
Ein wichtiger Hinweis: Wir beziehen uns beim Test nur auf die PlayStation 3 und Xbox 360 Version beider Spiele. PlayStation 2, PS Vita, 3DS und Wii Fifazocker sollten dieses Jahr einen grossen Bogen um «FIFA 14» machen. Statt eines neuen, verbesserten Spiels erhält man auf diesen älteren Konsolen nur ein Team-, Manschafts- und Trikot-Update. Der Rest des Spiels basiert, wie schon letztes Jahr, auf der «Fifa 11» Engine.
Für die kleinere Tonprobleme bei dieser Aufnahme möchten wir uns entschuldigen. Wir hoffen Ihr habt trotzdem Spass mit «Games To Listen #145»:
Abonniert den Podcast in iTunes oder abonniert den MP3 Feed (für Android und Co.). Wir freuen uns über jeden Kommentar. Viel Spass wünscht das «Gamester.tv»-Team.