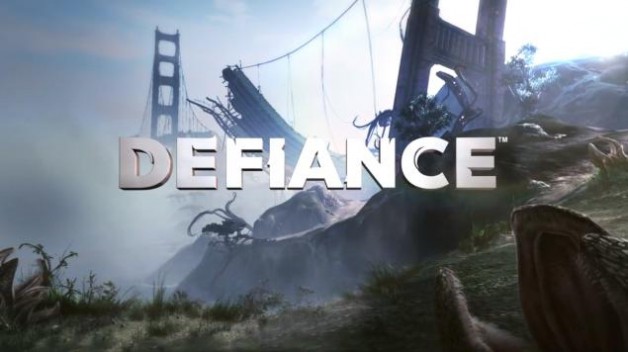 In dieser Folge von «Games To Listen» besprechen wir das MMO «Defiance», welches zur gleichen Zeit wie die gleichnamige TV-Serie auf SyFy gestartet wurde. Hiermit sollen natürlich einerseits die Spieler vor den TV gelockt werden und umgekehrt die Zuschauer auch animiert werden, das MMO zu kaufen und zu spielen. Die Geschichte ist in der San Francisco Bay angesiedelt, rund 35 Jahre in der Zukunft: Die Erde hat Besuch von Aliens gekriegt, den Votans. Nach einigen Jahren Krieg und dem Terraforming der Erde herrscht jetzt sowas wie Friede. In dieser Welt sind wir als Ark Hunter (Schatzjäger) unterwegs und versuchen soviel Loot wie möglich zu finden.
Gespielt haben wir den Titel vor allem auf der PlayStation 3, da MMOs auf den Konsolen deutlich seltener anzutreffen sind als auf dem PC, auf welchem es bessere MMO Shooter als «Defiance» zu spielen gibt. Die Spielwelt in «Defiance» ist riesig und mit dem Quad oder einem Auto muss man mit geschätzt 20 Minuten Fahrzeit vom einen Ende ans andere der Karte rechnen.
Allerdings wirkt diese Welt auf der Konsole ein wenig verlassen, da die meisten menschlichen Spieler sich an wenigen Orten konzentrieren und die vielen Zufallsevents, die es zu spielen gibt relativ spät angezeigt werden, wenn man mit voller Geschwindigkeit durch San Francisco rauscht. Andererseits spielen die meisten Haupt- und Nebenmission in der offenen Welt und man trifft dort auch öfters Menschen, die sich an den gleichen Mission versuchen. Da kommt dann endlich sowas wie Teamworkfeeling und Gruppendynamik auf. Das Gildensystem ist für ein MMO nämlich relativ rudimentär und bietet wenig Anreiz, sich einem Clan anzuschliessen.
Ob sich der Kauf von «Defiance» lohnt, erfahrt Ihr in Folge #134 von «Games To Listen».
Abonniert den Podcast in iTunes oder abonniert den MP3 Feed (für Android und Co.). Wir freuen uns über jeden Kommentar. Viel Spass wünscht das «Gamester.tv»-Team.